About the bridal bouquet: there are so many decisions to make when choosing the design of it. This post cover a few things for you to think about.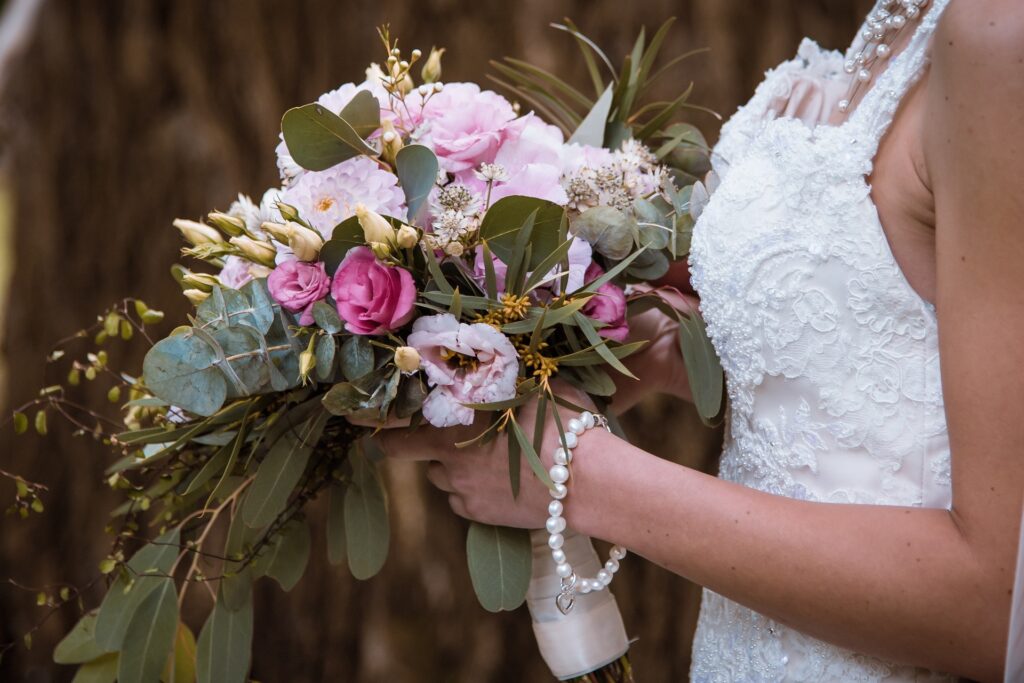 About Your Dress
Find your dress before you make any major decisions about the bridal bouquet. Consider the style and shape of your dress. Your bouquet should complement your silhouette, not hide you or make you look and feel off-balanced.
The style of the bridal bouquet
Here's another conundrum! There are a multitude of bouquet styles to choose from. Consider the following:
Cascade bouquet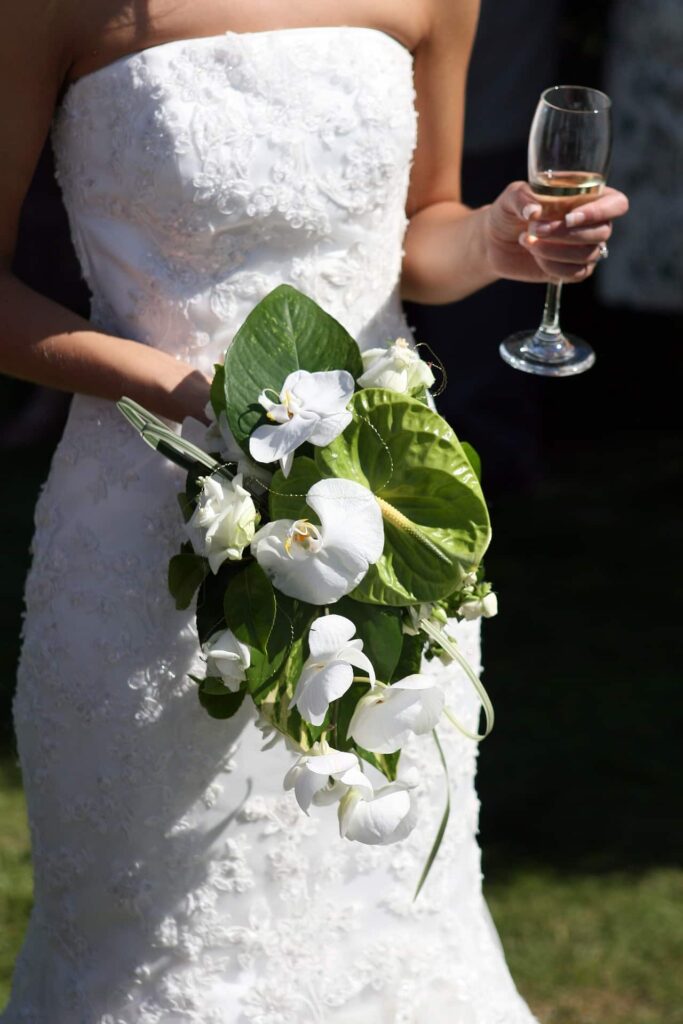 This style of bouquet comprises flowers and greenery and resembles a waterfall of flowers cascading towards the floor. They're impressive for sure. But something to consider is their weight, the bigger they are the heavier they are. But don't worry, if it gets too heavy for you hand it to your partner and share the load. Sharing is caring as the saying goes!
It would be a great addition to your album to get a photo of this. Cue one for the photographers!
The hand-tied bouquet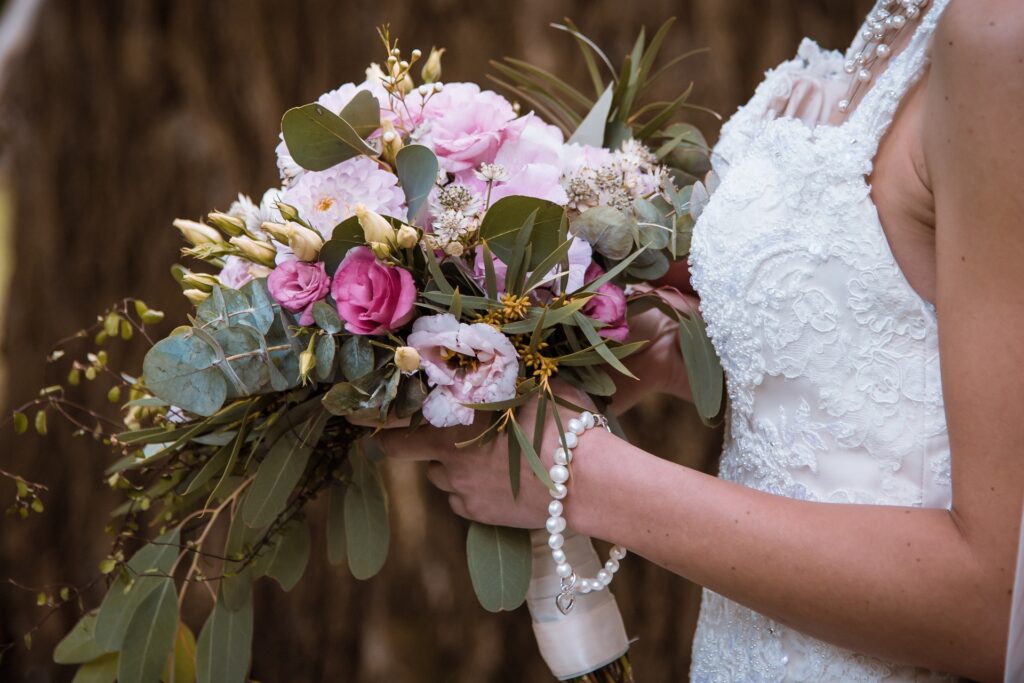 They look like you've just gathered the blooms from the garden. The stems are left exposed and depending on the theme, the bouquet is tied with ribbon or twine. You can have ribbons of different lengths trailing down. They are often caught by the wind and can add a whimsical touch to your photographs.
Round bouquets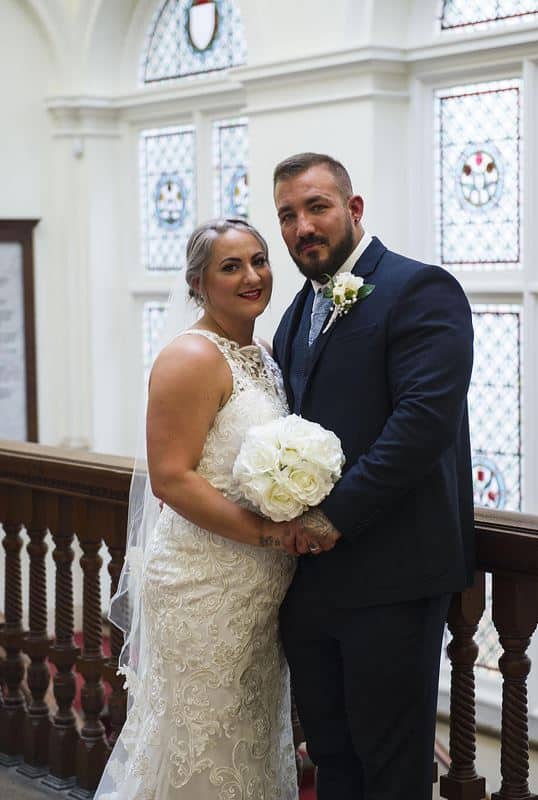 In this bridal bouquet the blooms are arranged in a tighter shape, you could consider using just one type of flower to create this type of bouquet, or one colour tone.
Asymmetrical bouquets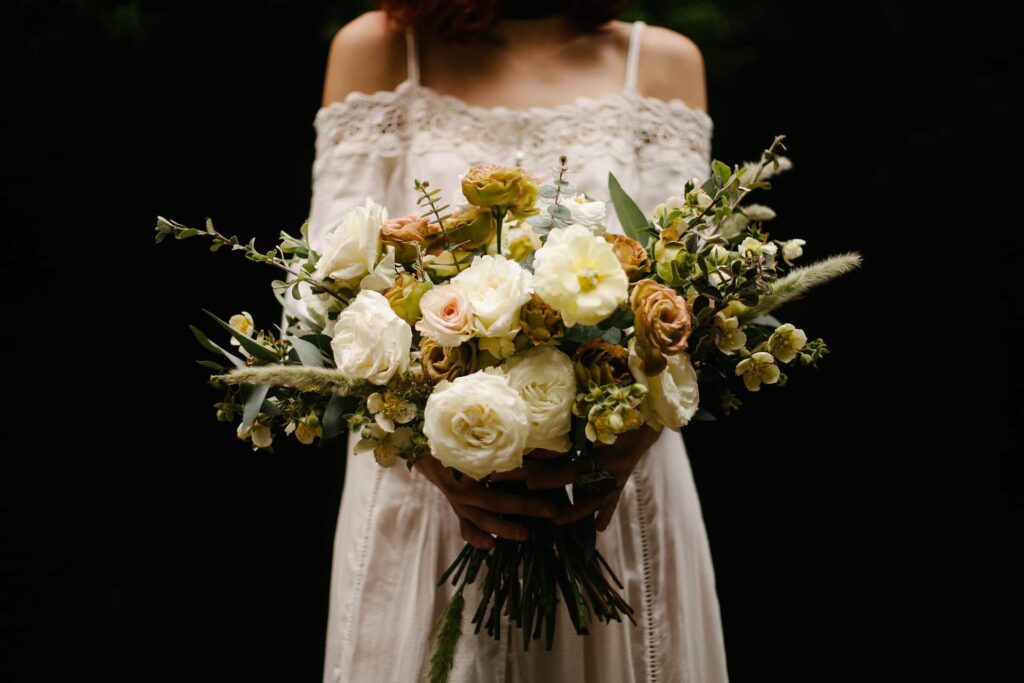 Quirky and unusual this type of bouquet favours the unstructured look, overflowing with blooms and foliage of different lengths and sizes. Usually one side is higher that the other and you can use large showy blooms and interestingly shaped foliage.
What's in your bouquet?
This is an interesting one!

You don't have to use fresh flowers and foliage. You can incorporate brooches, grasses, crystals and pearls. Paper, felt, silk flowers, dried seeds and other dried elements. Then there's feathers, family heirlooms, a bouquet charm of a loved one to consider using. The list is endless.

The colour of the bouquet
This is where you might want to pull the covers over your head and pretend you don't need to decide on the colour of your bouquet.

Think about the colour of your dress and the colour of your bridesmaid's dresses. Are you favouring a single colour or do you have a colour scheme you want to use? Are you thinking of wild colours or of a mono colour bouquet?

The good news is there is no right or wrong answer. It's all about what feels right for you.
Take our advice and chat with your florist. They'll offer invaluable advice on creating the perfect bouquet for you. She or he will offer advice on flower combinations, seasonal availability, colour and style of your bouquet. And the size and weight of your bouquet that is right for you. Before you do anything why not check out our wedding flowers packages?

Do let us know if this post has stirred up more questions. We're happy to help. You can find all our contact information here.
Further on this topic check out our blog about wedding flowers – including bouquets and buttonholes. And if you're thinking of breaking with tradition then give this one about tossing the bouquet – or not – a read.
Social media
Why not follow us on social media to keep up to date with our happening and to see even more of our decor? Follow the links to Instagram , Facebook and Pinterest