January 2022
Amy and Jerrad's Wedding at Kingscote Barn, Tetbury
Amy and Jerrad at Kingscote Barn
Amy is a returning customer – Fabulous Functions UK did the décor for her birthday party a few years ago – something she'd loved. So you can imagine our delight when she messaged us to say she'd met the love of her life, was planning her wedding celebrations and wanted us as part of her wedding planning team! Excited doesn't cover it!

We arranged to meet for a coffee and an initial planning meeting in a cosy little pub in Devizes – with social distancing and masks in play to meet Covid regulations.
Initial planning meeting for Amy and Jerrad's wedding at Kingscote Barn
It was great to meet up with Amy and her lovely mum and listen as she described the vision she had for her wedding venue décor. We explored ideas and suggestions, discussed colour scheme and made suggestions for other suppliers needed for the day.

I'd brought samples to show Amy. It's so helpful to see the fabrics, compare colours and combinations where possible and make choices based on that knowledge. We created a beautiful vision and I was super excited to get started.
Wedding location
Amy and Jerrad had chosen Kingscote Barn in Tetbury for their wedding celebrations – a beautiful venue with much indoor and outdoor space for the couple and their guests to enjoy.

As part of our service, we include an on-site visit, approximately one month before the wedding date. This gives our couples a chance to walk through the venue and envision the décor they have chosen. Confirm locations for their accessories and make any last-minute changes. Amy and Jerrad's Kingscote Barn wedding was no exception and so they walked through the venue with me, discussing each room and the best locations to place their accessories. At the end of the visit they were sure all was as they desired.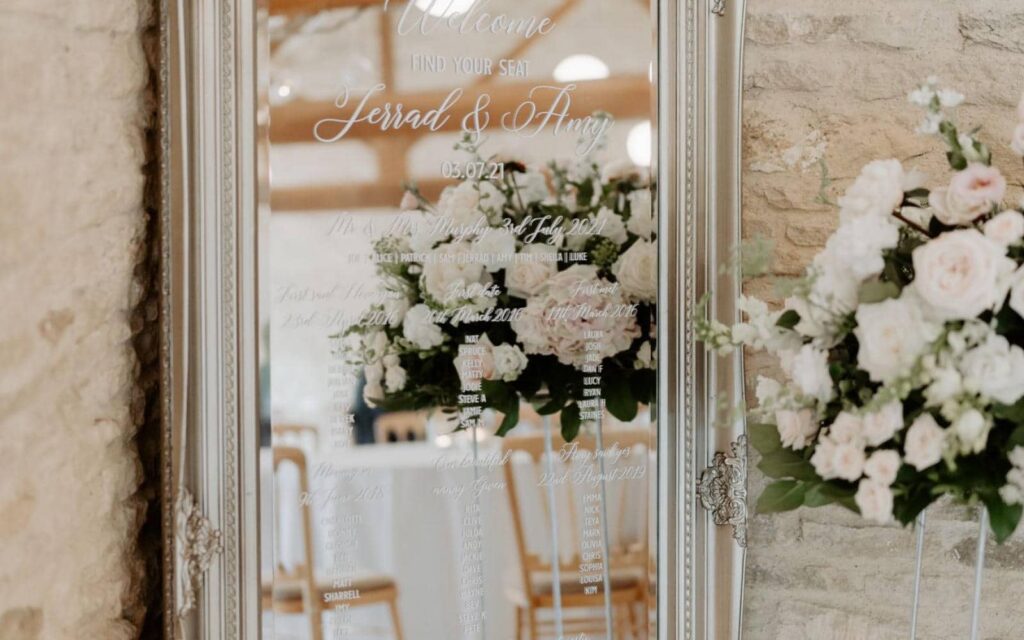 Action stations
Come the wedding day it was all action. We arrived and unloaded all the accessories, had discussions with the coordinator at Kingscote Barn and got to work.

First up was dressing the chairs with a light grey chiffon hood and waterfall ruffles, creating a soft romantic feel. Once the florist had placed her centrepieces, we added tealights and candles to the tables, placed in groups of 3s around the tables to create a warm ambience once they were lit.

Next we turned our attention to the reception welcome room. We are happy to use accessories provided by our couples and incorporate this into the accessories we provide as part of the décor.

The floor standing mirrored table plan was a beauty and with much care we set it in place and added cylinder vases with floating candles. The personalised mirrored welcome sign was also placed ready to greet the guests.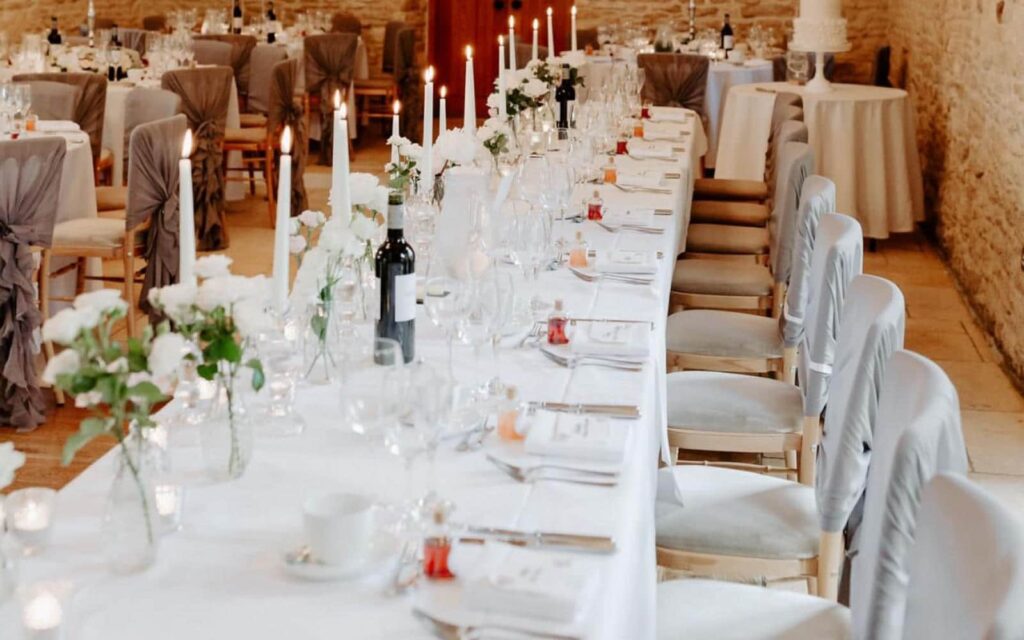 Amy and Jerrad wanted to give a little nod to loved ones not present and had provided a treasured drinks trolly belonging to Amy's Nan. This we carefully placed and decorated with items provided by Amy.

Amy and Jerrad at Kingscote Barn had a wealth of personal touches so… Not forgetting the ceiling! Kingscote Barn has a wealth of original beams and we attached some beautiful twisted willow branches, added tealights in glass baubles hung at various heights.

The aim was to create a warm welcoming décor full of romance, charm and sophistication. The venue looked so beautiful.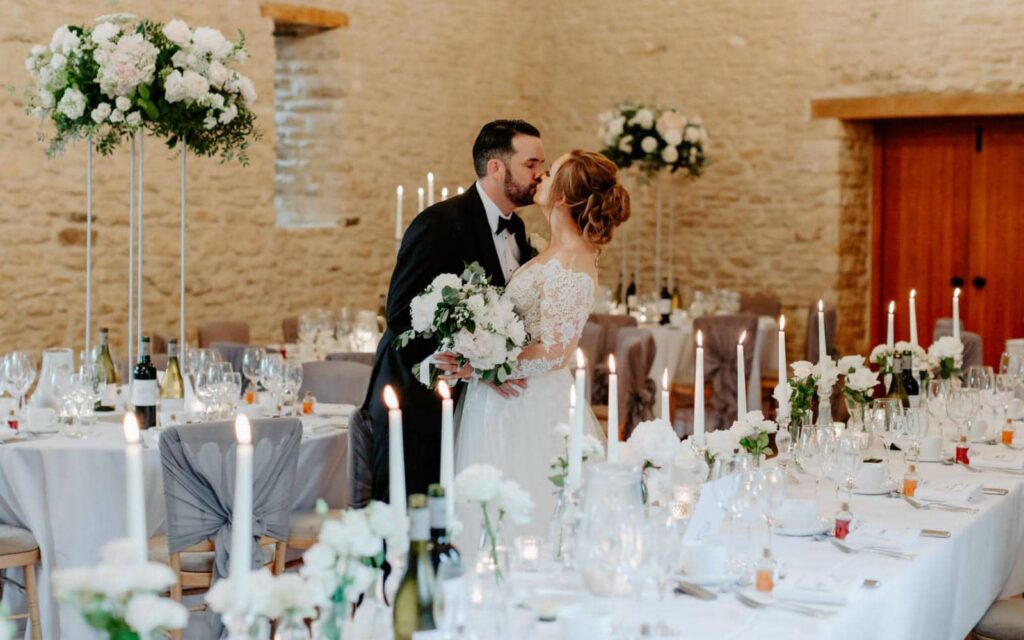 ---
What the lovely couple said about us
Jerrad said: 'I knew the venue would be beautiful, because you were doing it.'

The both of them: 'We cannot thank you Sandra & the Fabulous Functions team enough for the amazing work they did for us building up, and on the day of our wedding.'

The venue looked breath taking and you worked so hard so we want to thank you from the bottom of our hearts. We loved working with you. You knew our vision and you helped with every little touch!

Sandra was on hand whenever I needed her. Thank you all so much it was just perfect. Any event in the future we will contact you!

Mr & Mrs Murphy