A HINDU AND BRITISH FUSION WEDDING
Will's Account of his and Sonam's beautiful multi-cultural wedding.
We recently wrote a blog about planning a multi-cultural wedding, highlighting many of the areas to consider when deciding which parts of your cultures to include in the ceremony.
Today, Will has kindly shared his thoughts on his planning journey as he planned his Hindu British wedding.
Here is Will's account of his beautiful multicultural wedding …
After getting engaged to Sonam, I suspected that our initial future was to be stressful yet exciting and of course it would all be worth it in the end. Having an inter-racial relationship can bring up some hurdles and marriage is likely the largest one to overcome. I was very fortunate that Sonam's family were quite welcoming and despite a few roadblocks on the way we made it to a wedding and beyond!
Our Hindu Ceremony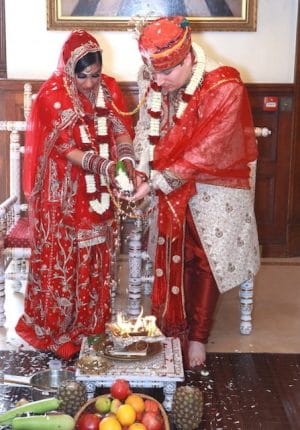 When planning our wedding, I knew that it was important that we honour both our cultures. So we had a religious component as well as the civil ceremony.
My wife is Hindu and I respect her beliefs whilst I consider myself to be an atheist/humanist. We agreed straight away that we would have a blessing at the Hare Krishna Temple in Watford.  Then a civil ceremony at another venue. Initially we wanted a small wedding with close-knit family/friends.
We were also aware that, as Sonam was the first to be married amongst her siblings, then a fuller,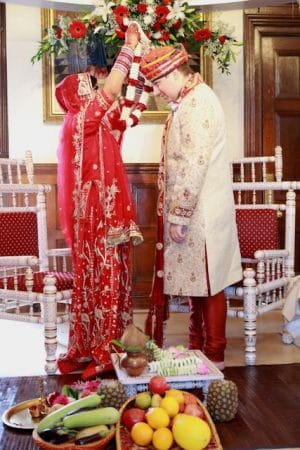 traditional religious ceremony may be in order.
The Hindu ceremony was something that was brand new to me. I had never been to any type of Asian wedding. Therefore I only had 'the internet' and the experiences of a couple of friends to help me. In terms of the planning, this was looked after by Sonam's family – from the clothes (I wore an indian suit) to the ceremony. I didn't mind this, as it meant that everything was done in the correct and respectful manner.
Wedding prparation
My preparation was simple, get dressed and turn up. I didn't get to see all of Sonam's preparation, which was a lot more involved over multiple days. One thing we both chose was the venue, which was perfect! The day was an incredible experience which was an introduction for my family to another culture and focused on the joining of our two families.
When planning this part of the wedding the two of us needed to meet with a wedding planner, who was of tremendous help in guiding us to customise and design the wedding.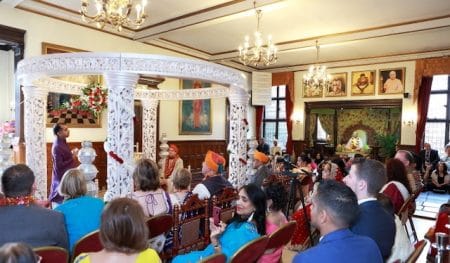 Our Civil Ceremony
This second day of our wedding was a traditional British civil ceremony. We chose our vows, the music, the colour theme, food and entertainment. The Pinewood Hotel was the venue was chosen by Sonam and her parents.  We kept our vows traditional, along with wedding speeches by the Father of the Bride, Best Man and Groom.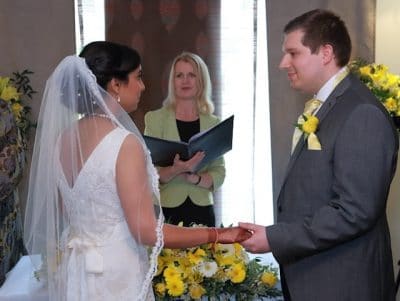 The wedding breakfast was a three course meal followed by a reception in the evening. The guest list was very one sided – with most of the guests being friends and family members from Sonam's side so we decided to go with Indian food from a caterer. As the second day was the civil ceremony, I was more involved in the preparation. I chose our suits following our colour scheme, chose our wedding songs and spent days planning and rehearsing my speech. I spent a lot of time thinking about making everything as meaningful as possible. This was very important to me – I'm only going to do this once!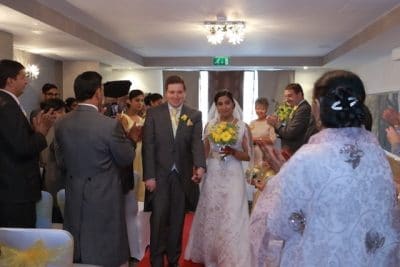 Joint Decisions
Sonam and I couldn't have lived together before marriage and a few people have asked me if I would have waited had we been able to. First of all, I knew that I had to be with her a long time before I proposed. Secondly, I respect her culture and her family and we didn't even think about living together before we had gotten married. Our marriage was worth all of the stress, arguments and issues that arose. We made sure that we did everything with a focus on being able to start a life together.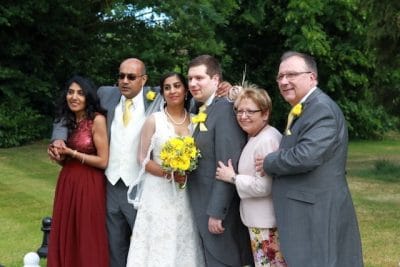 Thank you Will and Sonam for sharing your story. Wishing you both a beautiful life together.
Sandra