Fabulous Functions UK in the Media
Woo Hooo! We are doing our happy dance to see Fabulous Functions UK in the media. Wedding fairs are one way – and a good one – to give prospective brides and grooms a sense of what you can offer them.
Yet, as we've learned from experience, a far more effective one is that of collaboration. Working together, with complementary wedding services, cake makers, videographers, photographers and more, to show to full effect how fabulous we can make a venue look. We set the stage, pop the flashbulbs and all concerned parties social the heck out of it to show the world what we can do.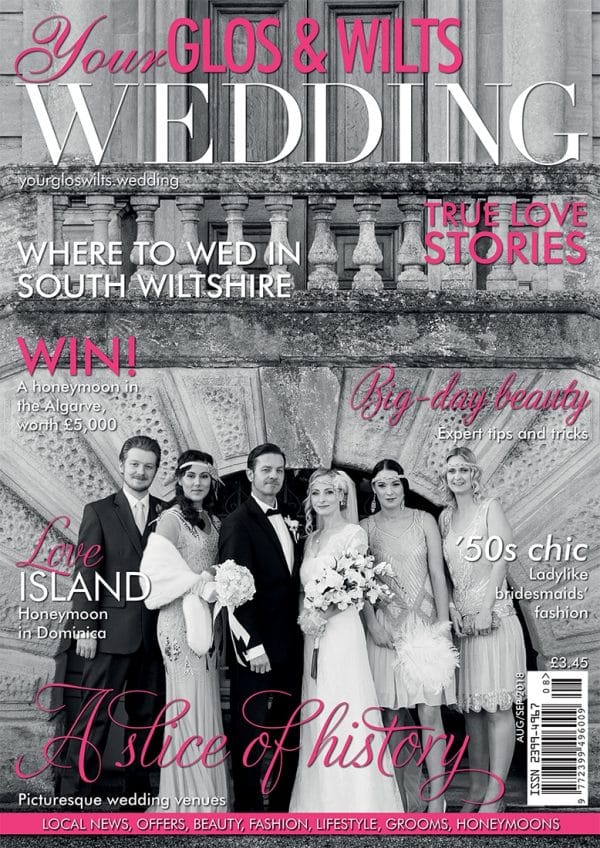 Even better than that though, is getting media coverage of our collaborative events. And this season, we at Fabulous Functions UK are celebrating one such collaborative photo shoot making it to the centre pages of Your Glocs & Wilts Wedding.
Where did it happen?
The photoshoot that the magazine used in its feature 'A Timeless Affair' took place at Heythrop Park Resort, on the edge of the Cotswolds.
Now a Crowne Plaza hotel, Heythrop Manor is an 18th century manor house. Built in the 1700s and set in a chocolate-box-English landscape, this historic, Grade II listed estate presented the perfect location to stage a vintage-style wedding.
The theme of the photoshoot
The theme of this photoshoot then was a vintage one. So think broadly channelling the Great Gatsby with vintage-style props but with subtle pops and touches to give the styling a 21st century twist.
The sepia photography is fitting for such a theme but of course it doesn't show the subtle tones of the fans. Nor does it let you see how effective is the neon green wrap around the stems of the orchid. We've therefore included some colour photographs lower down to demonstrate.
The double-page spread as seen in the issue 10 of Your Glos & Wilts Wedding  magazine. Page 56  and and page 57: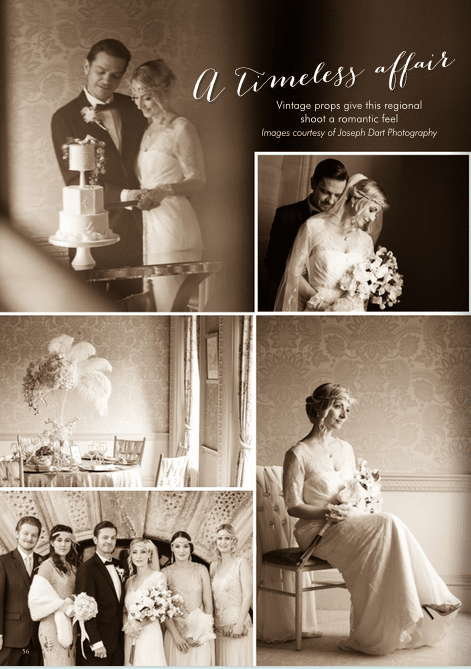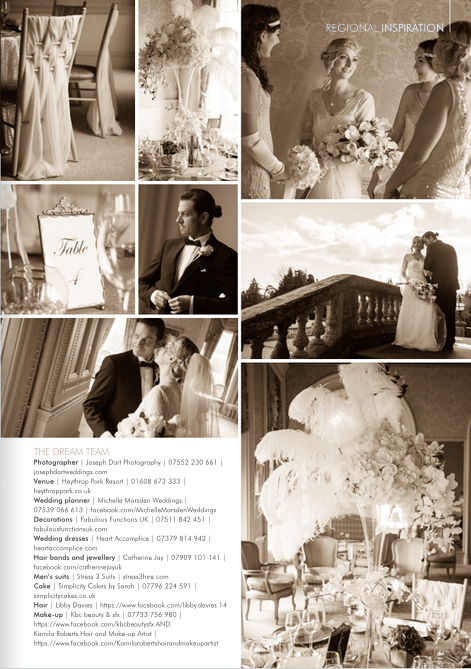 Fabulous Functions UK in the Media

Everything you see in the pictures, that comes under the heading of Decorations and wedding flowers was our work.
Now for some colour images: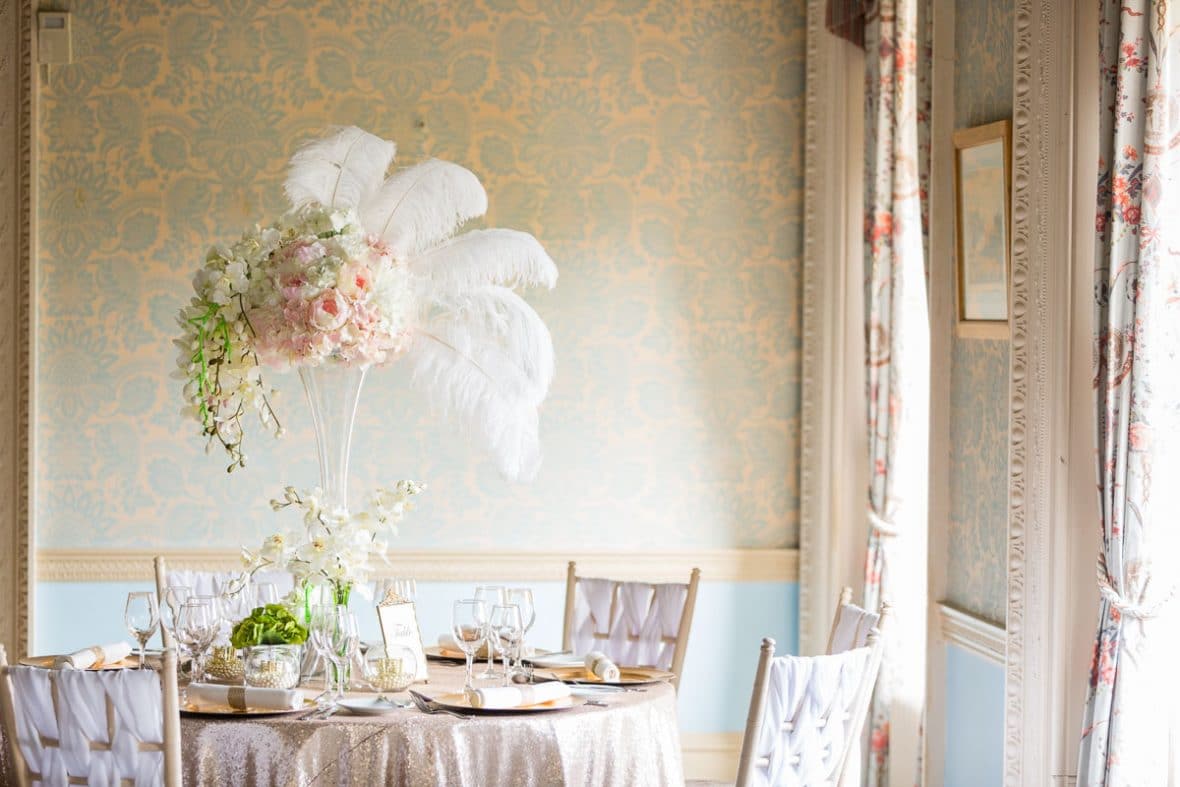 In this image and the one below you can see how we've dressed the table with our sequinned table linen in a subtle and sophisticated Champagne shade.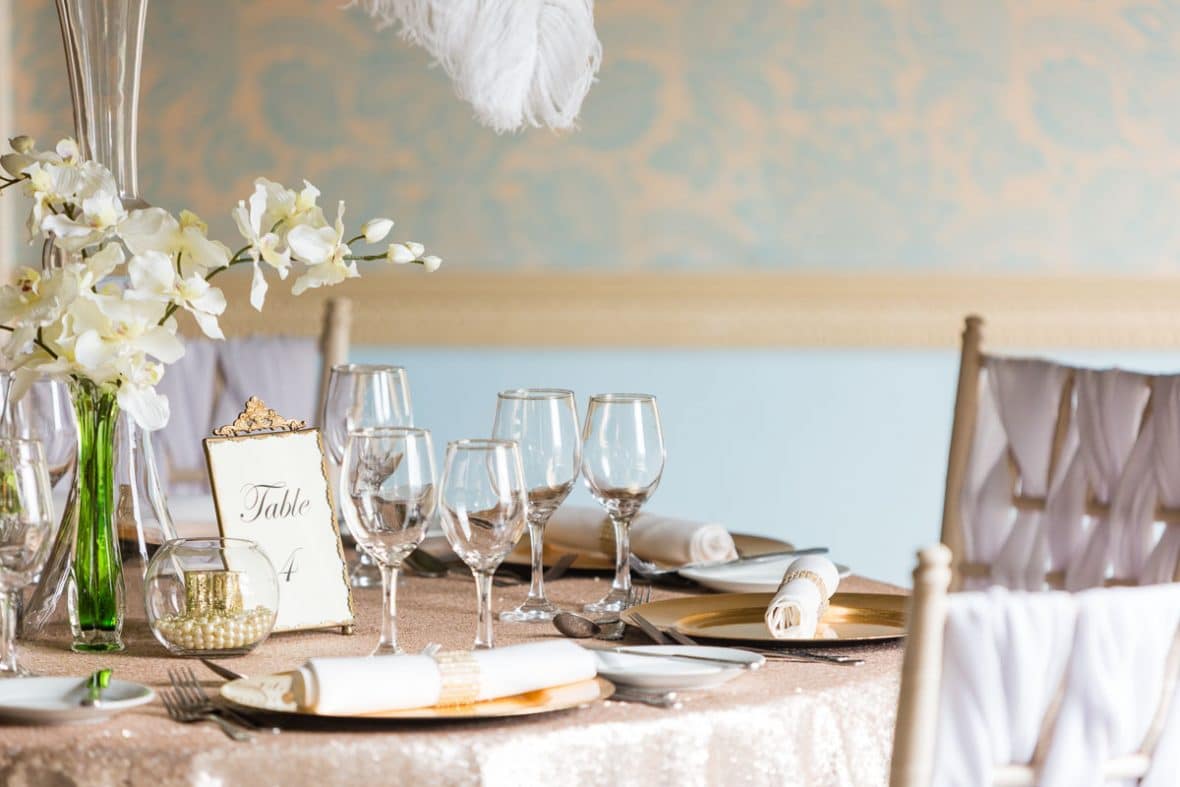 Note the shots of bright green giving a contemporary flavour to a quintessentially vintage style. We had great fun working with all the suppliers involved in staging this photoshoot. It was hard work, but of course we all think the end result was well worth all that effort. We hope you think so too.

Collaboration is key to success. We were one of a fabulous team of wedding experts weaving our magic wands to create these inspirational images for you.

The Dream Team who collaborated with me on this fabulous project are listed below.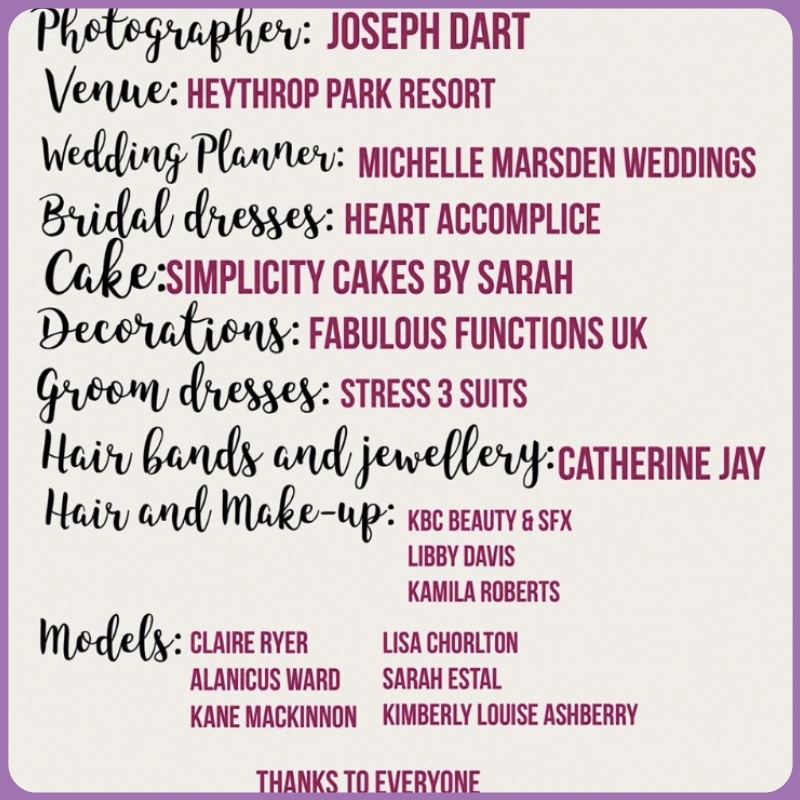 A mini collaboration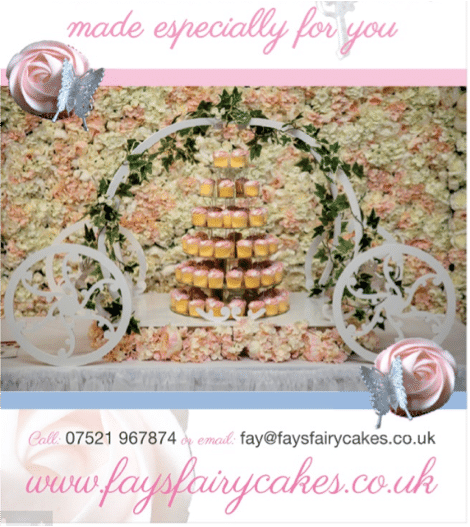 In the same magazine is this advert for Fay's Fairy Cakes. The gorgeous background you see, setting off Fay's baked goods to perfection, is our fabulous, show-stopping flower wall.
If you'd like to know more about how fabulous your function could be with our help, get in touch to find out more. Drop us a line at: Email: hello@fabulousfunctionsuk.com or call 07511 842 451
And if you want to see more of our work follow us on Instagram and Facebook.

PS: For other wedding theme inspiration see this post about an ombre-themed wedding decor. Or, of you're a globe-trotting pair how about creating a fun travel theme for your decor? We have a host of travel themed accessories in our hire section including vintage suitcases, a globe and a message in a bottle.