7 Benefits of Silk Flowers and Foliage
7 Benefits of Silk Flowers:
Silk flowers have gained a new lease of life, so whether it's a gerbera in a jam jar freshening up the kitchen windowsill or a table centrepiece for an elegant dinner party, flowers often form an integral part of decorating. And this is never truer than for a wedding.
So, if you've recently become engaged and are embarking on the wedding planning process then the use of silk flowers and foliage in both your bouquet and venue-dressing is well worth considering. They are far more realistic in appearance than they once were. Technology has improved them no end and the good quality ones are almost indistinguishable from the real thing.
What's more – they have a number of significant advantages over fresh blooms, Here's our 7 benefits of silk flowers:
1. Cost effectiveness
Fresh blooms are undoubtedly beautiful but they don't come cheap. With the associated costs of organising a wedding spiralling ever upwards this might be one way in which you can reduce your outlay without having to compromise on style.
As with everything in life you get what you pay for. The lower the price there's likely to be a corresponding reduction in size, quality and appearance. So aim high – a silk flowers arrangement will usually be more substantial than an equivalent in fresh blooms.
2. Silk Flowers Have No 'best before' date
Fresh flowers are prone to wilting and tearing. Not so the silk flower. Durable and sturdy, silk flower bouquets, buttonholes or corsages will survive the ceremony, the reception, the photographs and your first anniversary and beyond. What's more it will be as fresh as it was on the day you said 'I do'.
3. Low carbon-footprint
75 percent of fresh cut flowers are imported and transported by airfreight. Silk flowers though, with their infinite shelf life, are typically transported by ship.
4. Easy to transport to your venue
Silk flowers don't, by their nature, wilt, wither and die as a result of extreme shipping temperatures. That resilience makes them easy to transport to your venue and restyle once there.
5. Unaffected by climate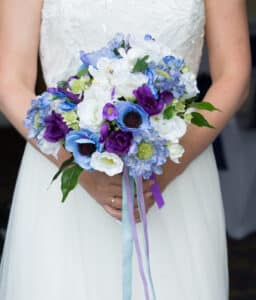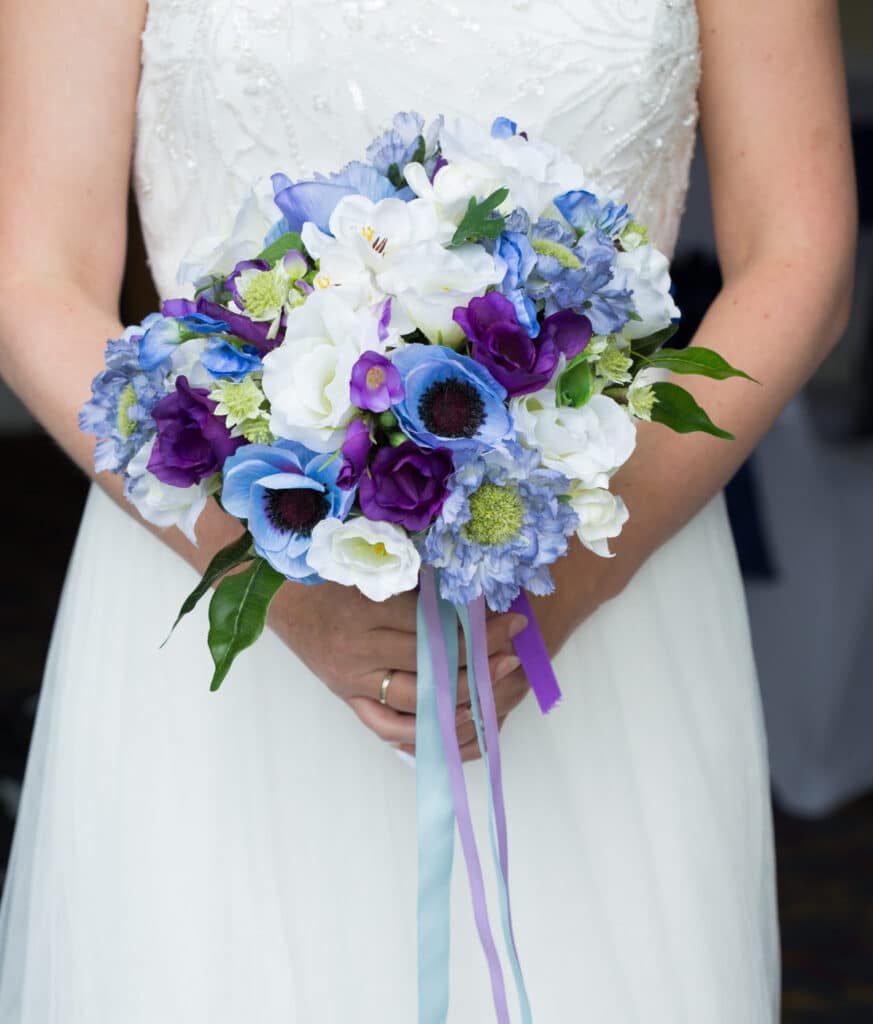 You need have no concerns about your beautiful blooms wilting in summer heat or becoming too dry or getting petals blown off in winter winds or even summer breezes.
What's more, if your dream is to have a destination wedding in warmer climes carrying a bouquet of roses in silk flowers can make this unlikely marriage possible. And without the need for expensive air shipping of fresh flowers.
And, should you like the idea of having a flower wall as part of your venue dressing, one made of silk flowers is both affordable to hire and worry-free on the day.
6. Easy-care
Silk  flowers are practically maintenance free. There're no worries about over or under watering. What's more they last longer than 5-7 days. And see point
7. Hypoallergenic
It's quite possible that some of your guests have allergies to pollen. Now your bouquet and the bridal party's buttonholes is one thing. But if you want to turn your wedding venue into a floral arbour, be on trend with 2017's Pantone colour of the year 'Greenery' or simply have flowers on every table then there's a good chance of you getting up more than one person's nose. Literally. But pollen problems and odour sensitivities are circumnavigated with ease by using silk flowers and foliage.

If by now you're thinking that you'd like to explore the idea of having a silk flower bouquet when you make your vows then why not get in touch? You can contact us on 07511 842 451 or you'll find us on the usual social media channels: Facebook, Twitter and Instagram.Or drop us a line on: hello@fabulousfunctionsuk.com
We'd love to hear about your wedding planning journey, the items you're looking for and explore ideas for creating your dream day.