This is the story of turning a field into a winter wonderland wedding venue
A lot goes in to making a function fabulous. It's a story in and of itself, of co-operation and collaboration with other suppliers.

There are those directly involved in the event concerned. The photographer, the cake supplier, the wedding planner (if it's a wedding) and more.

And then there are the suppliers that the Fabulous Functions team works with to help us fulfil our role in creating the event concerned. Because magic doesn't happen all by itself. Here's a magical tale of some of what went in to creating a winter wonderland wedding.
Collaboration
The Team at Fabulous Functions UK received a call from Tom Falding of Fandangos events and entertainment. Tom had been asked to put on a marquee wedding and called on us to create the decor. We met the bride and groom to be and the brief was "We have this field and want a Winter Wonderland Wedding."

We put our heads together and came up with a plan which the couple loved so we got to work with the preparations as the timeline was tight. We had just a 6 Weeks lead time to Wedding Day.
And then there are the suppliers that the Fabulous Functions team works with to help us fulfil our role in creating the decor for this winter wedding. Because magic doesn't happen all by itself. Here's a magical tale of some of what went in to creating a winter wonderland wedding.
Three snapshots
This blog then comprises three snapshots of our role in meeting this brief from the soon-to-be bride and groom: 'We have a field and we would like to get married in a Winter Wonderland.' They tell a tale of some of the magic woven in creating this winter wonderland wedding, forming part of a wonderful whole.
Snapshot 1: Sew far so good
Creating a fabulous function takes as much time as the clients give you and collaboration from all the business you encounter as you go. We had roughly six weeks to dress an enchanting, winter wonderland wedding. We succeeded with the help of amazing business who simply said: 'Yes', when presented with one of my far-fetched ideas. The cooperation, kindness and patience encountered stirred the Fabulous Function's heart.
Disaster strikes
In planning any big event, whether wedding, party, house move etc there's bound to be hitches and hiccups. As a general rule of thumb, the proportion of aaarghsuch problems incur has a direct link to the time frame one is working in. Now six weeks is no time at all to plan a wedding, even if everything goes to plan. Imagine my horror then, when my sewing machine decided to go on strike. After weeks of hard work, out of the blue not a stitch more would it sew! Time was of the essence, so a hasty Google search followed to find my nearest service point. Joy of joys, it turned out to be my old friend Sewcraft in Swindon.
The times I've rung Roger and his team at Sewcraft, with a 'Do you have …?' His reply, if not 'Yes, I have', is always 'No, but I'll get it for you'. To which I say: 'Great. Please don't close till I get there, I'm on my way!'
For whom the bell tolls
Returning to the striking sewing machine – off I scooted, machine in tow, to see Roger. He took one look and in a grave voice uttered what I did NOT want to hear: 'Sorry, I can't fix it. It needs to return to the manufacturer.' A how-do-you-do for sure! There I was with 180 fabric lengths to sew and no machine. Taking one look at my stricken face, Roger handed me a machine: 'No problem. Take this one.' With a soaring heart I took Sewcraft's machine home to finish the chair décor for the winter wonderland wedding. Roger saved the day and I can't thank them enough.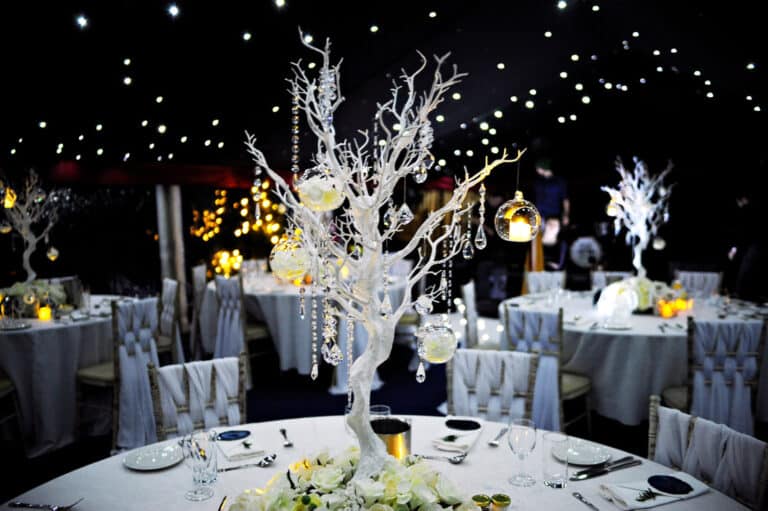 Snapshot 2: Let it snow!
You cannot have a winter wonderland themed wedding without snow. Not the real stuff – that would be messy. As would a snow machine. Not to mention the cost. So what does a smart event designer do in such a situation? She calls Jo Rigden of SED Develoments of course! Jo, a fellow independent business owner, is a whizz with all things 3D printed. I explain what I want and Jo grunts and nods. She then does her thing with her CAD and her 3D printers.
'Snowflakes' I say to Jo. 'No problem' says she. The next day I find on my mat an envelope. It contains different sized, gorgeous, delicate, lacey snowflakes. Perfect! Exactly what a winter wonderland wedding needs! An authentic, romantic touch minus the slush.
But we didn't stop with snowflakes. Jo also designed and printed table numbers for me. We had great fun getting them right. No 2 looked rather like a fat and ill-proportioned lady but I thought she had character! Bucket loads of thanks to Jo for her patience and creativity in bringing my ideas to 3D life.
Snapshot 3 – Seeing the wood for the trees
What elements make a winter wonderland setting? Lots of white, lots of lights, something snow-related and lots of trees.
To tackle the trees issue I met up with Rob of Ridgeway Tree Surgery & Countryside Management. I explained my ideas to him and he suggested I visit his yard to see what he had. And oh boy, did he have some beauties?! He had exactly what I needed to create the vision of wooded enchantment that I had in my head. Because the branches were too big for my car, Rob offered to deliver them to me.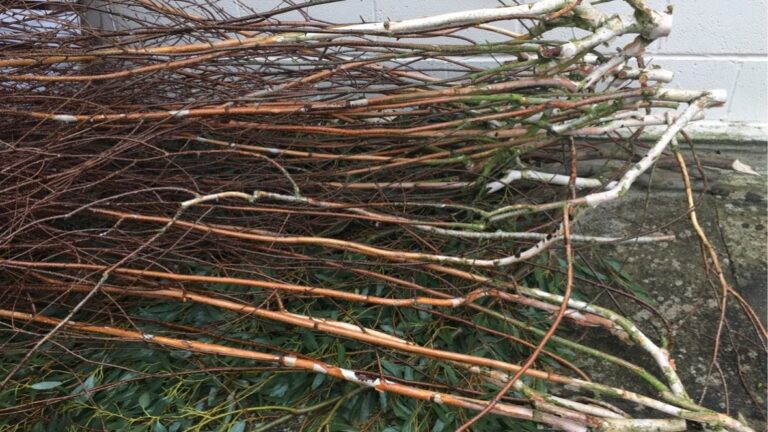 Rob was kindness itself and went out of his way to help.
A joint effort
The winter wonderland wedding scene that the Fabulous Functions team together created was as captivating as we'd planned and worked for. It captivated the bride and groom and wowed their guests.
Elmar, of Elmar Rubio Photography did a sterling job of capturing all the elements comprising this super, splendid, sparkly setting.
---
About us

To find out more about our services visit our About Us page. We love to learn about you and your vision for your very special day. Then we transform your venue into your very own wedding world. Call us for a chat today.
We would love to have you in our social media family, please like and follow us on social media to keep up to date with our happening and to see even more of our decor.
Follow the links to Instagram , Facebook and Pinterest