A Tour around the World to Find Some Exciting Wedding Traditions
In this blog we take a whirl wind look at wedding traditions from around the world. Everyone in Britain knows the Old English rhyme about something old, something new, something borrowed, something blue. The rhyme serves to instruct brides on the good luck charms she should incorporate into her bridal attire. Kate Middleton was lucky enough to borrow a tiara, I had a necklace, and my best friend had a garter from her mother in law.
Something old, something new, something borrowed, something blue
That, along with a wedding party composed of the best men, groomsmen and bridesmaids, wearing white, cutting the cake and tossing the bouquet are traditions that form an integral part of the British wedding.
But for fun we thought we'd have a light-hearted and tongue-in-cheek look at wedding traditions around the world. And share with you some of what delighted, excited, shocked and surprised us – in no particular order. You never know – you might see something you think you'd like to incorporate into your own wedding.
Getting into a lather
The Greeks take the term 'Groomsmen' somewhat literally. On his wedding day, the groomsman or men and best man turn barber and give the groom a wet shave. They also assist him to dress. The idea being to symbolise trust between the men. It's all Greek to me
Get hunting
In Kenya, a group of women including the bride are covered up from head to toe and the groom must find his bride amongst them. IF he chooses wrongly, he is fined and must try again.. I don't see us adopting this one, do you?
A stone's throw
In the land of Oz they have a thing called a unity bowl. All the family members are provided with coloured stones that are unique to them – they identify them. The stones are added to a bowl on display in the couple's house. The rationale behind it being that it shows how the family has 'coloured' the couple's life. And it's a reminder to them of every family member. Assuming you like your family this is rather nice we think.
A whale of a time with a tabua
On our whistle stop tour of wedding traditions around the world we land in Fiji; when a chap wishes to propose marriage he presents either the bride or her father with a wreath made from whale's teeth. They don't have De Beers in Fiji then? And wouldn't a nice pair of cufflinks be so much easier for the prospective father-in-law?
Wow, wedding traditions around the world take a few quirky turns, read on to find out more..
Going down the pan
According to Brides.com the French had a tradition that is both good – and bad. The good news is that it's a tradition for the bride and groom to eat chocolate and drink Champagne after the reception. Sounds great huh? I know what you're thinking – what's not to like about that? Well! Before you get excited, the bad news is that the couple has to take these treats from a chamber pot.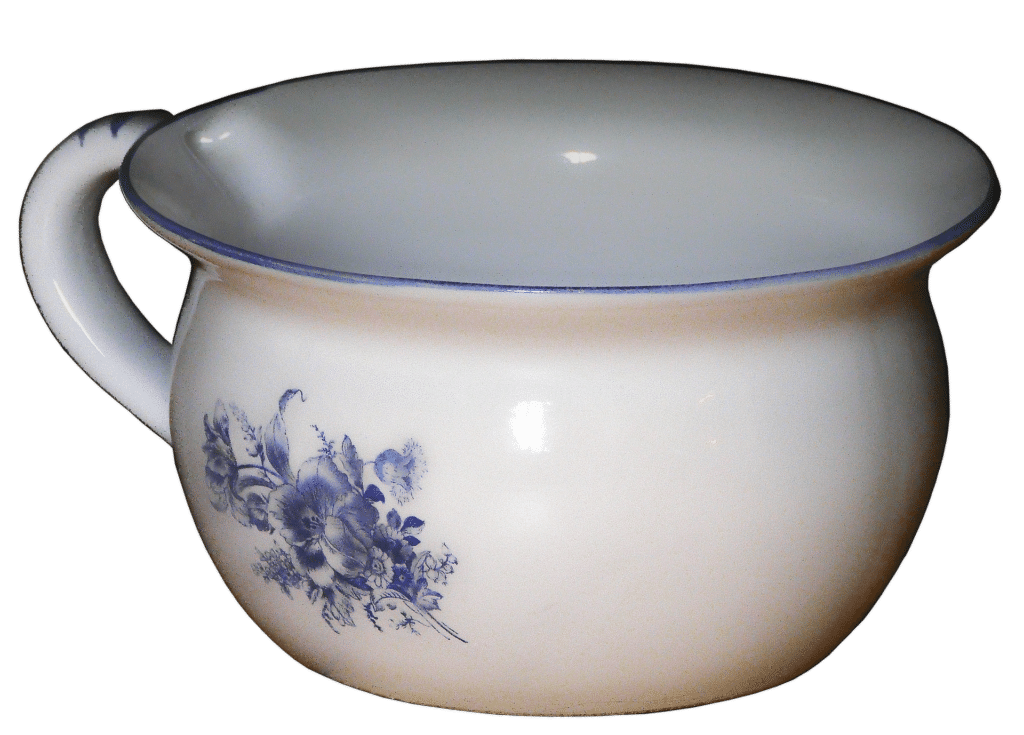 The point of all this is to fortify the twosome for the wedding night action with sufficient strength. But if someone was lax with the loo cleaner they might get a flush of a different kind. Not sure that anyone practices this these days, this is one I would definitely forgo!
Not a crumb
Jamaica has a tradition that is still followed today. The family must make sure that not a crumb of cake was left to fall on the floor or bad luck would follow the couple. 'Now thinking about it, I do remember my mother carefully collecting all the crumbs of our wedding cake!'
The dove from above
We continue our look at wedding traditions around the world with the Philippines, where the bride and groom set free two white doves at the end of the ceremony. This delightful tradition is a symbol of a loving and successful marriage.
So there you have it. Our round up of just some of the weird, wonderful and downright wacky wedding traditions from across the globe.
To find more on wedding traditions – read our blog on choosing which traditions you follow and which you change to create your won traditions. You can hop over to the website and have a read of Breaking with wedding traditions
Have you seen any traditions-in-the-making at weddings you've been to? Let us know and we can share them on our social media. You'll find us on the usual social media channels: Facebook, Twitter and Instagram. Or drop us a line on: hello@fabulousfunctionsuk.com
Until next time,
Sandra