The wedding speech running order
In our blog, Five alternatives to Champagne for the wedding toasts, we had a rummage through the off-licence shelves to bring you some alternatives to Champagne for making a toast along with the wedding speech.

The logical next step then is to have a look at the correct running order of the wedding speeches themselves.
Who goes first and why
It's understandable to feel nervous about the wedding speeches. Aside from wanting everything to run to plan you may well have nerves about delivering the speech itself.
For great tips on how to deal with wedding speech nerves, do check out this guest post from life coach, Frances Barrone.
It will give you some great tips on dealing with wedding speech nerves.


But this blog is about explaining what the running order is – and why.
The first thing to say is that, the tradition is for the giving of wedding speeches to take place after the wedding breakfast. But if we've learned anything from our recent posts about breaking with tradition, many modern couples are choosing to plough their own furrow.

Which is why, as this article on Hitched.co.uk, points out: you can have the bride's father make his address to the guests before the wedding breakfast commences.

Or you might do the whole lot before you eat so everyone can relax and enjoy their food. A particularly nervous speech-giver might appreciate this.  

Another way of doing it is to have a speech between the wedding  breakfast and dessert so guests aren't having to sit through what might be a tedious block of speeches. And there won't be any grumbling stomachs while the speeches are going on. This one is win-win all round!
It's also worth noting that many couples change up the order of the speeches and also who gives a speech. Nowadays you'll find the bride giving a speech, or her mother. Children who are brave enough to say something on behalf of the wedding couple may be invited so to do.

Then, after the main parties have spoken the floor is open to anyone who want to wish the couple well.
As the saying goes –  Your Wedding, Your Way!
So if breaking with wedding tradition is on your mind – go here.

Note too that having speeches isn't the preserve of weddings. Birthday and anniversary celebrations can also call for speeches. And venue decoration. So if that's where you're at check out our venue styling packages here.
Traditional wedding speech running order
The bride's father
It's common etiquette for the bride's father to head the speech running order list. He's afforded this honour because, traditionally at least, he's the one that's the founder of the feast. Or has at least paid for a chunk of it.

Though, as we've seen in 'Giving away the Bride', this situation is not so common as it was.
Be all that as it may, this speech is the proud dad's chance to welcome the guests he's hosting and thank everyone for coming to share the celebrations. It's also a formal welcome to the groom into his family.

The bride's father's speech should include a toast to absent friends and family before concluding with a toast to the newlyweds.

It's usual for this speech to contain funny and heart-warming stories about his daughter. Indeed, it should glorify her! Yet it should mention the groom too and why he thinks they're such a fabulous couple.
Visit this article on Hitched.com website for speech examples for the father of the bride
The Groom: his speech is next on the running order

The lucky groom's speech-making duties encompass a response to the toast proposed by the bride's father to the newlyweds. It should also offer thanks to the bride's parents for hosting the wedding – assuming that they have – and for welcoming him into their family. Not forgetting an expression of gratitude to his parents of course!

It also falls to the groom to give thanks to the key wedding party members, hand out any thank-you gifts and compliment the bridesmaids! He might also want to say a few words in praise of his new bride. If he doesn't want a row on the wedding night anyway.
Here's 11 top tips for making the perfect groom's speech.
The Best Man
Now we come to the last speech of the night and one that's heavy with expectation. And perhaps some nervousness from the bride and groom's quarter – given that the expectation is that the best man will pepper his speech with amusing anecdotes about the groom.
If you're a best man preparing a speech, do be mindful of the audience when you're deciding which stories to share.

It's polite to remember the bride but refrain from giving her the same verbal roasting as the groom.
Here's 18 Tried and Tested Jokes for the Best Man's Speech to give you some inspiration. And if you want more than that then here's 21 funny introductions for the best man's speech.
In summary then:
When you're planning, and arranging your speeches, traditional running order or not, it's important you consider these points:
Give some thought to how the person speaking ahead of you will round their speech off. If possible, discuss it with them. With a bit of co-operation, you can work a nice segue from their speech into yours so that yours starts by referencing the end of theirs.
Get the preceding speaker to introduce you. That way you don't have to make a clumsy self-intro and it lets you know it's time for you to take the podium as it were.
Confer with the other speech-makers on what jokes and toasts they intend including. This avoids repetition.
Of course, the same applies with anecdotes. Especially if there's more than one best man or if the bride's father is a bit of a wag. Heaven forfend you bore the guests by repeating the same or similar stories.
So there you have it. The whys and wherefores of the wedding speech running order.
If you've got any good stories to tell about wedding speeches you've experienced or how you've seen the situation dealt with at weddings we'd love to hear about it.

Find all our contact information here or use our webform.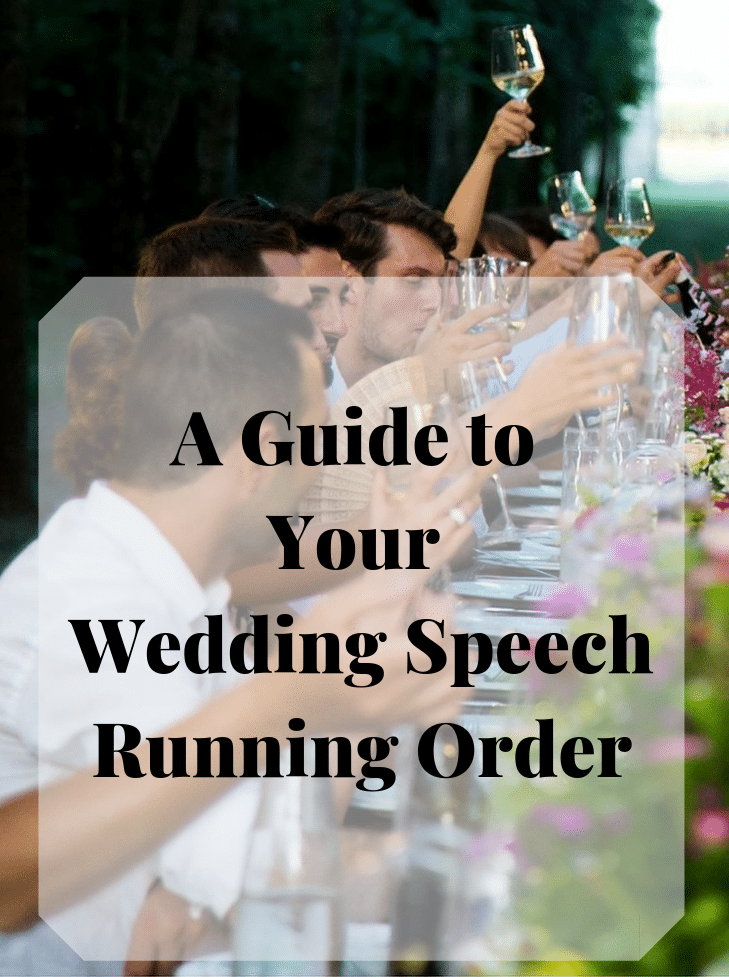 By the day- did you see the blog on ways to keep your nerves when making your wedding speech? Have a read and let us know if it has helped you.
Happy reading!