April 2021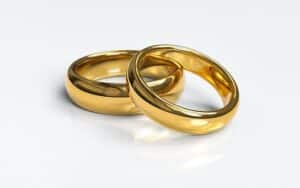 Second Marriage Dress Etiquette
Of late I've been giving some thought to two questions I've seen asked in various Facebook groups, that relate to second marriage dress etiquette:
Should one wear a wedding dress for a registry office ceremony?
Are there rules around second marriage style etiquette? Or put another way, a bride to be, marrying for the second time, wanted to know if it was acceptable to wear a white wedding dress for her ceremony.

My own thoughts on both those is a big YES – of course. If that's what you want to do, if that would make you happy, then go right ahead.

But you don't have to only take our word on second marriage dress etiquette for it. I've done a little digging to see what big wedding-related websites are saying about second marriage wedding dress etiquette. Hitched.com have an article from late last year, Second Marriage Wedding Dresses: The Rules and Etiquette Revealed. They posit that some second-time-around brides have the lustre of the wedding shopping process tarnished by remarriage etiquette uncertainty. It seems there's often a worry over whether or not white is appropriate for a remarriage.

But, as they say, browsing for a second wedding dress ought to be as enjoyable as it was for your first. Further, some brides hold a conviction that a second marriage puts white out of the bridal picture. But yet, when Meghan Markle wed Prince Harry, a second marriage for her, she wore white. And wonderful she looked too.

And anyway, the whole white wedding thing has nothing to do with purity and everything to do with Queen Victoria deciding to wear white because it complemented the lace on her dress. You can read more about that in our blog, Something Old and Something New that takes a brief look at a few of the classic wedding traditions.
Say I do in glorious colour
White is wonderful yes. But there's nothing to say you can't say I do in colour too. Red is a popular choice for a wedding dress – for the first time or for a second marriage. As this Vows Bridal website points out: 'Coloured wedding gowns are everywhere these days.

Brides are breaking from tradition and going for a unique look that can reflect their personalities. These wedding gowns may have just a little colour, or be completely one colour with absolutely no white or ivory to be found.' A red gown will sure as heck make a statement! Red is a popular choice for weddings around Valentine's Day and Christmas.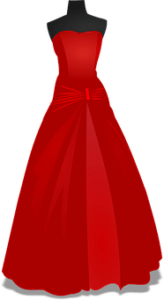 But it's best to use the colours that suit you as a guide – that way you'll both look and feel amazing. And, as the Hitched article says, you could always put a twist on traditional white by opting for a super chic white trouser or jumpsuit. 

Put another way, when it comes to second marriage dress etiquette rules – there are none. It's the 21st century – do whatever you feel!

Incidentally, should you be in the Swindon area and should you not ever have had a colour and style analysis done, then now might be the time. If you're thinking of going down the coloured wedding gown route for your remarriage then knowing the colours that best complement eyes and your skin tone will give you a head start in your quest for the perfect wedding dress!

If you're feeling social …
… do follow us on social media to keep up to date with our happening and to see even more of our decor. Follow the links to Instagram , Facebook and Pinterest and see the latest additions to our accessory hire range as well as the fab venue transformations that we produce for our lovely couples.