Dress your venue with gorgeous accessories
Give your venue your dream of a theme without breaking the bank. Considering the option of accessory hire.
One question couples often asked is.. 'Should I buy my accessories or just hire them?' As usual there is no right or wrong answer. Instead ask yourself a few questions.
Will you use the item again and again? Or is it only for your wedding?
Can you easily source the item?

Will you be setting it up on your wedding day?
Will you be clearing it down after your celebrations? (often this is on the same night as the venue may have another event the following day)
Storage is another consideration, where will you store the item before your wedding and afterwards?
Will you be selling the item afterwards?
The answer to these questions may guide you to making the decision to hire your accessories
Hiring your accessories is a cost effective way to dress your venue with stunning decor items that you can hire for a fraction of the cost of buying them outright.
Added to this is the setting up on the day. Couples often start off planning to do the venue decor themselves, then as their wedding day gets nearer and the practicalities become apparent, they decide to find a venue stylist who will do the work for them.
Your will have a set amount of hours for venue dressing before your wedding ceremony or wedding breakfast and you don't want to spend these hours stressing over getting your venue ready for your guests.
Much better to spend your morning concentrating on your personal preparations, letting your hair and make up artist weave their magic. Spending those few hours with your closest family and friends making fabulous memories for your photographer to capture – thus prolonging the joy of your fabulous day.
There's no need to buy when accessory hire is a practical and cost-effective alternative and we've got a wonderful, wide range of decorative accessories available for you to hire.
Bespoke Service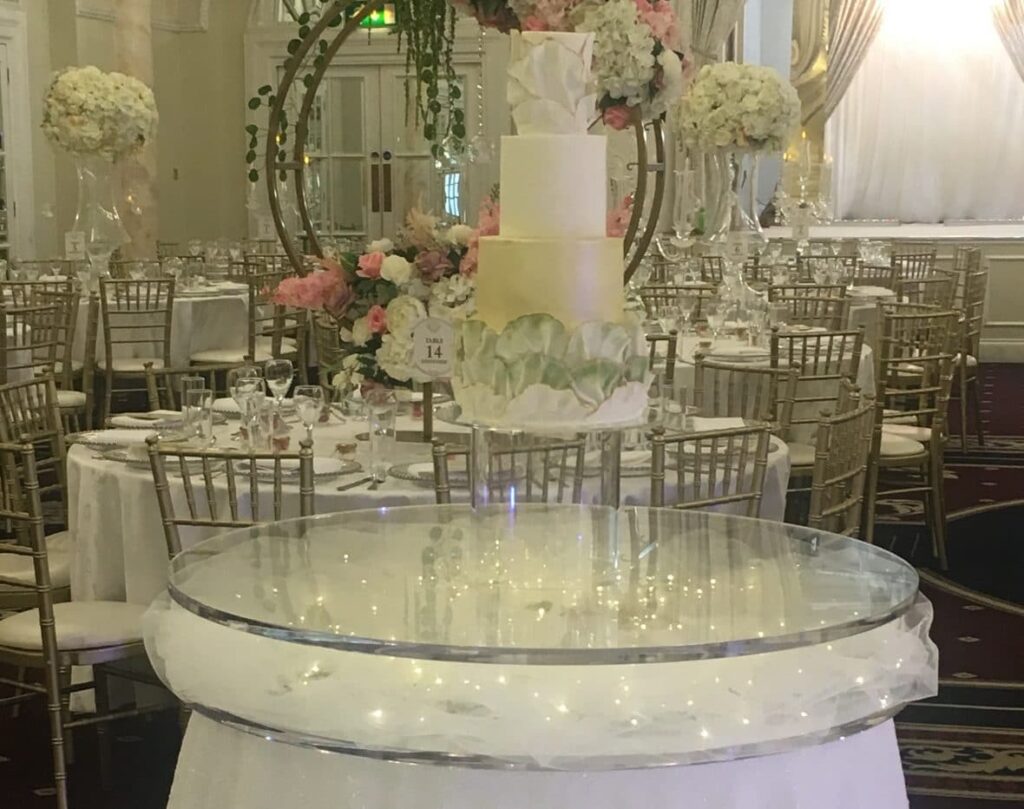 Is there something that you absolutely must have as your stand-out statement accessory? If you don't see what you're looking for on our website then have a chat to us. We can't list everything so it may be that we have it. And if we don't then ask about our bespoke service. The chances are we can source that must-have accessory or create it for you.

Either way, we'll work with you to ensure a harmonious theme throughout your venue. One that reflects your personality, your wedding theme and your personal preferences.

And speaking of cohesive venue decor themes – have you seen our venue styling packages? We have four different ones to suit varying needs and budgets.

Accessory Hire

You will find all sorts of wonders amongst our range of accessories for hire, we don't always have the time to add everything to our website. So if you are looking for an item in particular then let us know. The chances are we do have it, otherwise we will source it or create it for you.

Why not check out our Instagram feed? There you'll see many of our accessories in action.
Miscellaneous accessories
We also have accessories that are one off items, bespoke items or that don't sit in any of the categories listed below. Have a browse of our miscellaneous treats/treasure trove section and see what you can find. We're always adding to our stock so if you don't see what you're looking for do get touch and we'll do out best to source it for you.
Contact us on hello@fabulousfunctionsuk.com or call 07511 842 451 for a FREE, no-obligation chat to find out more about how we'll turn your event into a celebration to remember.
Your centrepieces set the tone of your venue décor. Use them to follow your passion and express your personality. Whether that's quirky and funky or classic and elegant – all is permissible. Carry your theme throughout the venue for a cohesive and 'wow' effect.