Wedding Venues and Disabled Access
Here are some important questions to ask/points to consider when you're searching for a venue to host your wedding or other celebrations. Whatever the occasion, if you have guests with any sort of limited mobility then this subject is one you'll need to consider.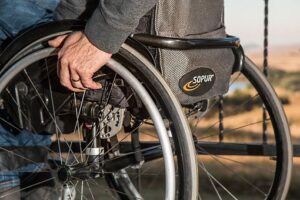 9 questions to ask about disabled access
What follows is some suggested questions to ask about wedding venues and disabled access either when making the first contact with the venue or during a venue show round.

1. Is the disabled access through the front access or a side entrance. If you are the bride and groom and are offered a side entrance, ask yourself if this is the right venue for you?

2. What are the dimension of the doors?

Ask for the measurements of the doors as wheelchairs are not all the same sizes. Some power chairs are larger than manual wheelchairs.

3. Are the car park and walkways paved or gravelled?

Wheelchairs are already heavy. Then add the weight of the person and you're going to need a superman to manoeuvre over gravel.

4. Is there a lift to access the upper floors if need be? If you have accommodations on site and they are on the upper floors how will you reach them?

5. Ask about ramps at the venue and if you can take your guests with limited mobility on a visit with you to test out the access arrangements.

6. Think about buying a second-hand wheelchair and customising it for your wedding day. You can respray it or re-upholster it.

7. Is the bathroom big enough to accommodate a wheelchair and attendants?

8. Does the venue have non slip floors in in the reception areas, bathrooms etc?

9. Are support rails in place?
You might find this website useful. It gives details of a number of wedding venues and disabled access across the country.

Moving away from weddings for a moment and on to accessible UK event venues in general, this website from Age UK is worth visiting. As they point out:

'The UK is replete with many wonderful music and event venues that are enjoyed throughout the year. This country is certainly very lucky in this regard as we have plenty of choices no matter where we live, especially in the cities. The even better news is that there a good number of venues across Great Britain where people can enjoy music, talks, workshops, and myriad other events, that have also made a great effort to implement accessible facilities.

Attitude is Everything, who have made wonderful strides to improve deaf and disabled people's access to live music, know a thing or two about what it takes to make a venue accessible …

… From big arenas to small local venues, there certainly are a number of truly terrific locations to be proud of. With this in mind, please read on for a selection of some of the very best accessible event venues in the UK. Hopefully, you will be able to visit some yourself in the near future.
Wedding planning timelines
If you found this blog about wedding venues and disabled access useful, you may also want to visit our wedding planning timeline blog. It's full of useful tips and advice on the tasks you need to do and when during your wedding planning journey. See also, our Wedding Planning timeline 18 Months +
Are you the social sort?
Follow us on social media to keep up to date with our happening and to see even more of our decor. Follow the links to Instagram , Facebook and Pinterest and see the latest additions to our accessory hire range as well as the fab venue transformations that we produce for our lovely couples.