The Fabulous Functions Backdrop Range – now we often get enquires dropping into our inbox asking us what backdrops we can offer couples as part of our hire service. The short answer to that is: a wide range. But that's not too helpful is it? So, in this blog we'll give you an overview of the Fabulous Functions backdrop range – we pride ourselves on its being quite extensive.
1. Flower walls
We have two fantastic flower walls available for you to hire.

The ROSELLA flower wall is blush pink and cream and. It comes in two 3 metre sections to hire singly or together.

The FLORALIE wall is a hydrangea-based, cream-toned confection. Floralie measures 3 metres in width and 2.80 metres in height.

Artificial blooms they may be but their effect is not lessened in anyway. And they're simply perfect if you – or any of your guests – have allergies. And such things are a serious consideration.

Even better – we do all the work for you. We put them up and we come and take them down again. All you have to do is sit or stand in front of them and glow!

2. Bespoke Hoops
Hung at different heights behind your top table, or sweetheart or ceremony area, these decorated hoops are a novel backdrop and make a wonderful photo or video. We can decorate them with foliage and/or blooms of your choice. What you see below is an example.

See the effect they create in this short YouTube clip – they move gently in the air. It's quite mesmerizing.
3. The Starlight Backdrop
For good old-fashioned Hollywood opulence and glamour our starlight backdrop is unbeatable.

The standard setting is a warm, white twinkle. But with the accompanying colour wheels you can choose from a range of colours and twinkle styles. Or no lights at all if that's what you want.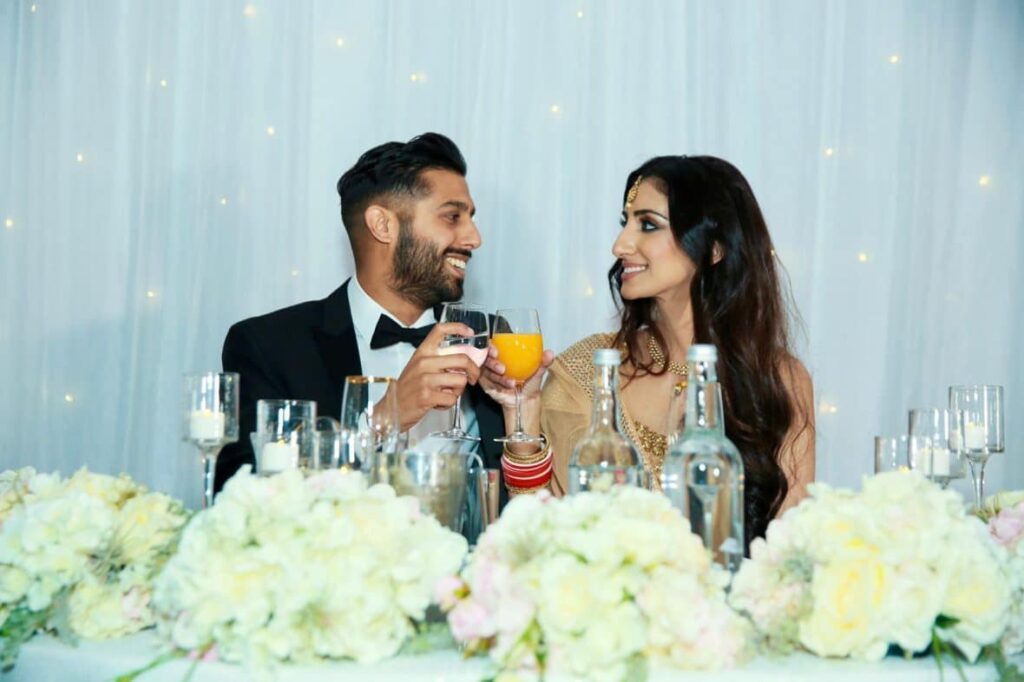 4. Drapes
Pleated and Draped Backdrops
We've actually got a full variety pack of drape backdrops that we can create for you.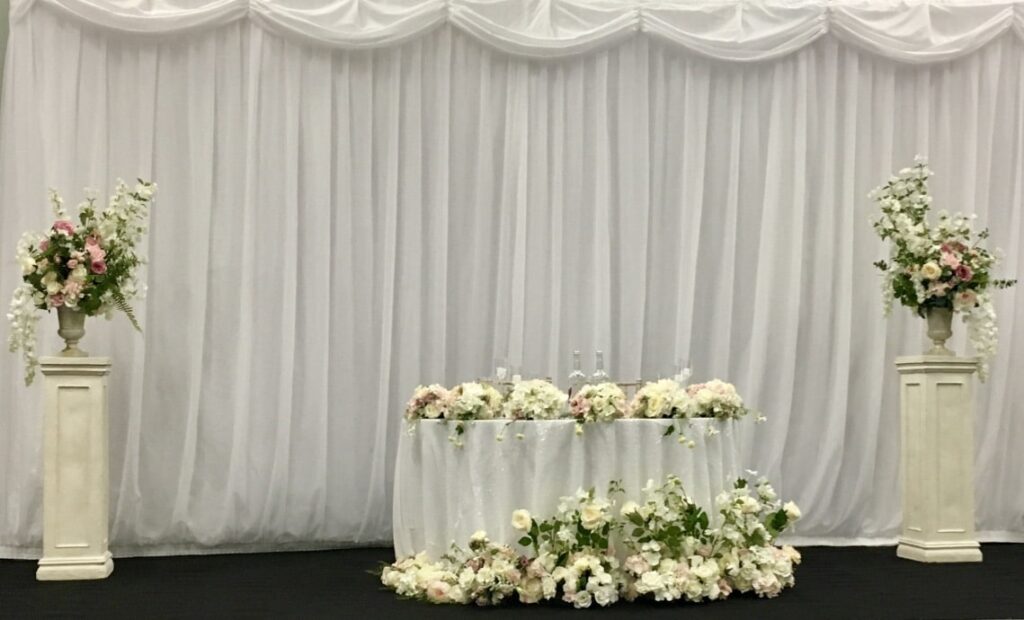 Pole draped with fabric with a chandelier in the centre to form a classical, symmetrical arrangement.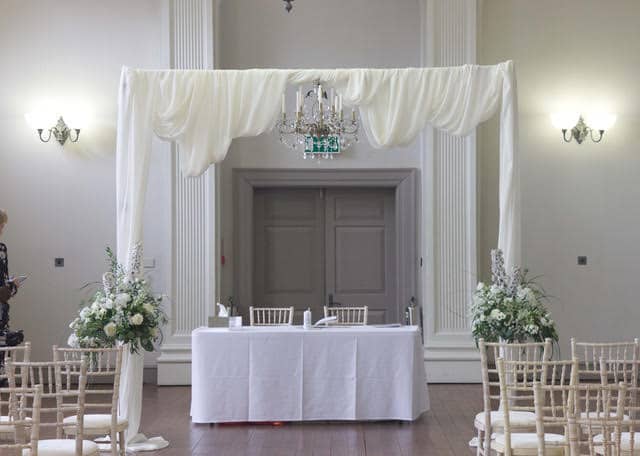 The image above shows an asymmetric pole arrangement of classic white fabric with complementary floral embellishments. All ready for you and your loved one to exchange those glorious 'I Do's'.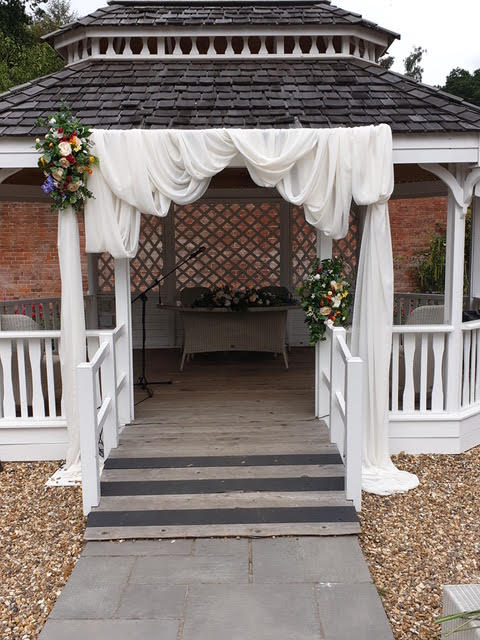 Floral curtains: look at these gorgeous pleated white curtains topped with a pelmet of greenery. Or blossoms would work just as well for a more romantic look.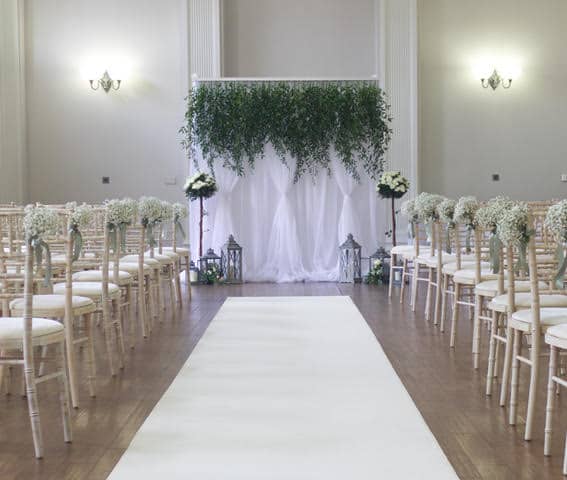 Consider framing a table with a pair of floral columns such as the ones in the image below. Isn't that effective?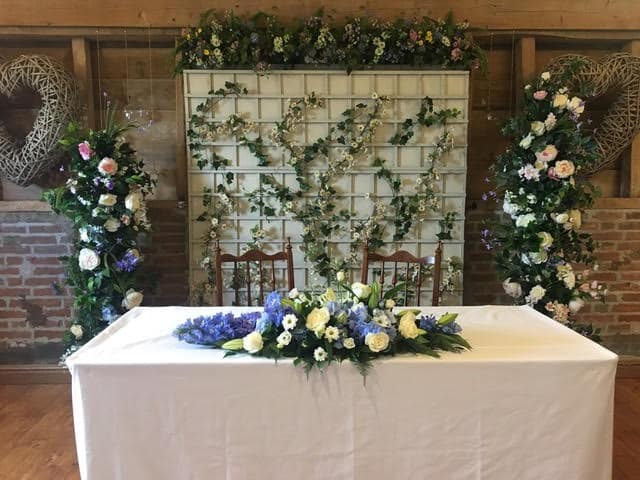 5. Make the most of a mantlepiece
If there's an attractive mantelpiece in your venue don't ignore it. Instead use it! 

Look what a stunning backdrop the mantlepiece you see below makes when dressed with beautiful foliage. Balanced with matching or complementary arrangements on the table and on the floor in front of the table, the effect is classic, elegant and stunning.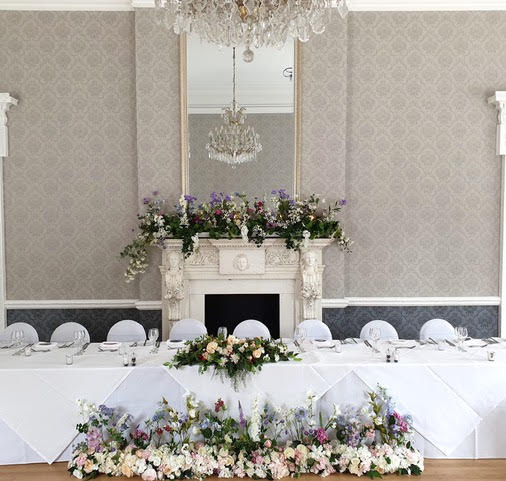 To talk to us about any of these backdrops in the Fabulous Functions Backdrop range and to find out hire costs call us on 07511 842 451.
We'll advise and help you decide which one is best for you.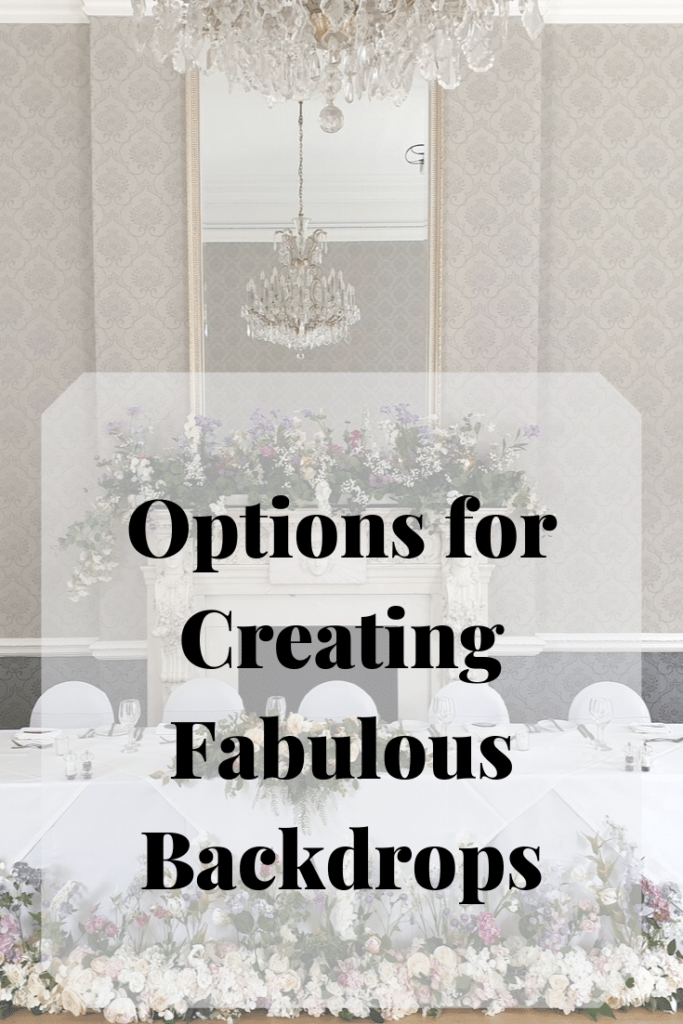 Social Media
Of course we're on social media. There you can see what we've been upto and get a further feel for what we do and how we work. Find us on Instagram here and Facebook here.
And if you prefer a good old fashioned phone call, you'll find all our contact details here.

And, before you go, do check out the rest of our blog for more inspiration in wedding decor. You'll find that here.