An idea for an ombre themed wedding decor was the driver for this incredible collaboration between like minded wedding suppliers
There really is no better way for wedding suppliers to show off their wares. Wedding fairs are an excellent way of giving prospective brides and grooms a sense of what you can offer them. Be it cakes, photography, video or venue dressing. Yet, as we've learned from experience, nothing is more effective or more heart-warming than a clutch of complementary wedding suppliers collaborating to recreate a wedding scenario that demonstrates what we can do.

In this post about Fabulous Functions UK in the media, we described our collaboration on a vintage themed photoshoot at Heythrop Park Resort on the edge of the Cotswolds. This time around the photoshoot action took place at The Bear Hotel in Hungerford, Berkshire.
How it Happened
Earlier this year, Fabulous Functions UK collaborated with a group of wonderful suppliers to stage an open day at Hungerford's Bear Hotel. Lots of couples came along and enjoyed meeting the suppliers there and booked us for their weddings.

So successful had the day been that the suppliers suggested to the hotel's event's manager, that we might use the hotel for a photoshoot. Vee and her term embraced the idea. They offered us the Riverside Suite for the purpose, and were excited about the transformation their gorgeous venue would undergo.

The Fabulous Functions UK team wanted to capture the joy of two people in love and who aren't afraid to show it.

Our aim was to inspire couples to be more daring in their luxury wedding planning choices, by creating a luxurious and opulent décor that can be adapted to suit most venues.
A Cascade of Colour
With rich, passionate burgundies and reds, through to coppers and golds to tones of blush pink and cream we created a vibrant colour range from the vibrant and bold to soft and delicate. All of it beautifully captured on camera by Barefoot Photography.
The First Step
The first thing we did was to get together with Louise of Wendy House Flowers. Together we devised a décor to stimulate the senses from the outset. We wanted the senses to dance a jig as they encountered the florals and the banquet style arrangement of guest tables. Louise, based in Lyneham, is a fantastic florist who encourages her clients to be brave in their choices.

For this photoshoot she created a gloriously wild bridal bouquet, full of colours and textures featuring grasses, clematis, wildflowers, roses and more.
The Decor
We decided on an ombre colour scheme, with shades ranging from rich burgundies full of passion, through to coppers and golds, all coming to rest on the sweetheart table with a cascading floral garland in tones of blush pink and cream.
Louise and I used a fabulous marriage of fresh and silk florals to create the centrepieces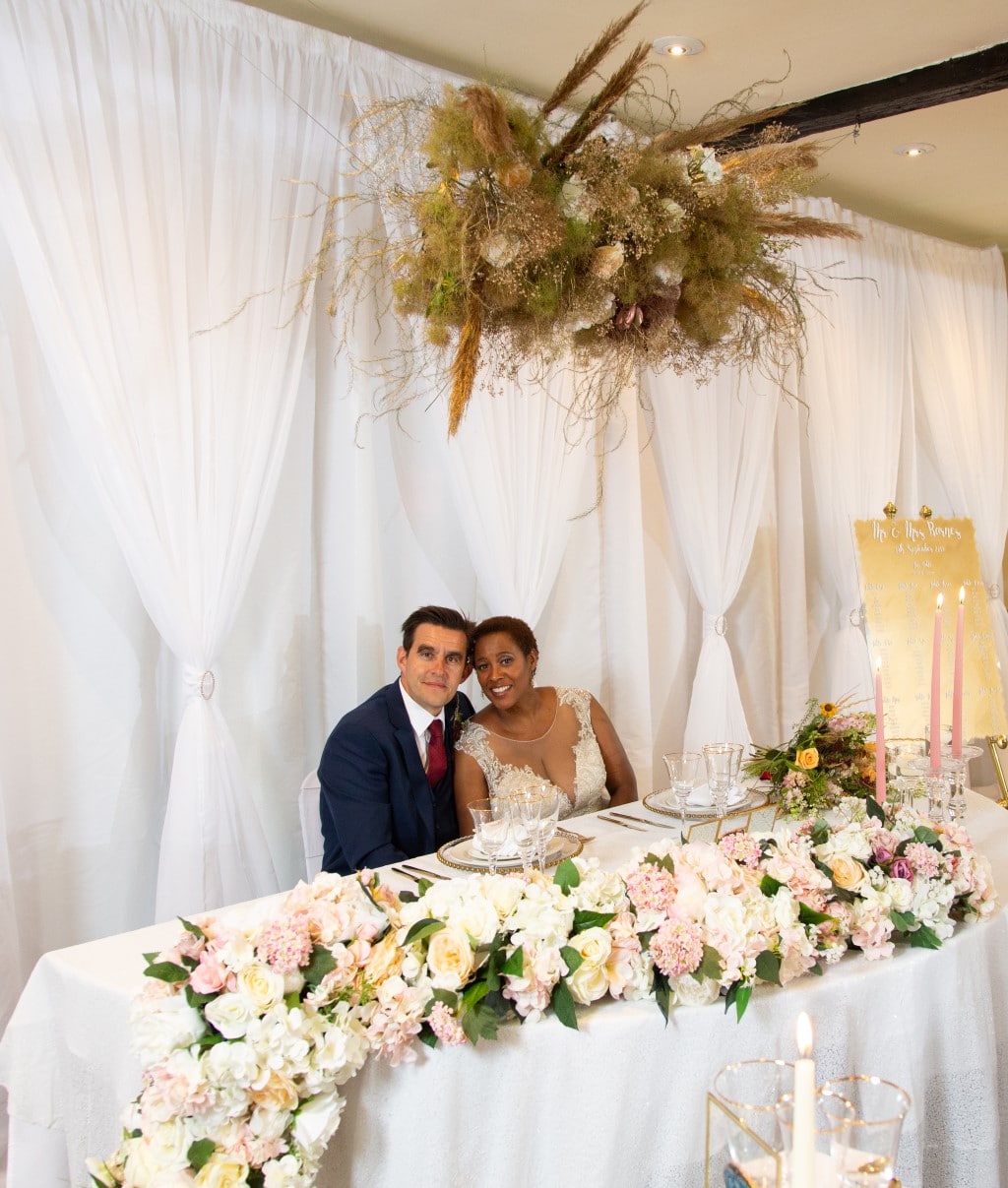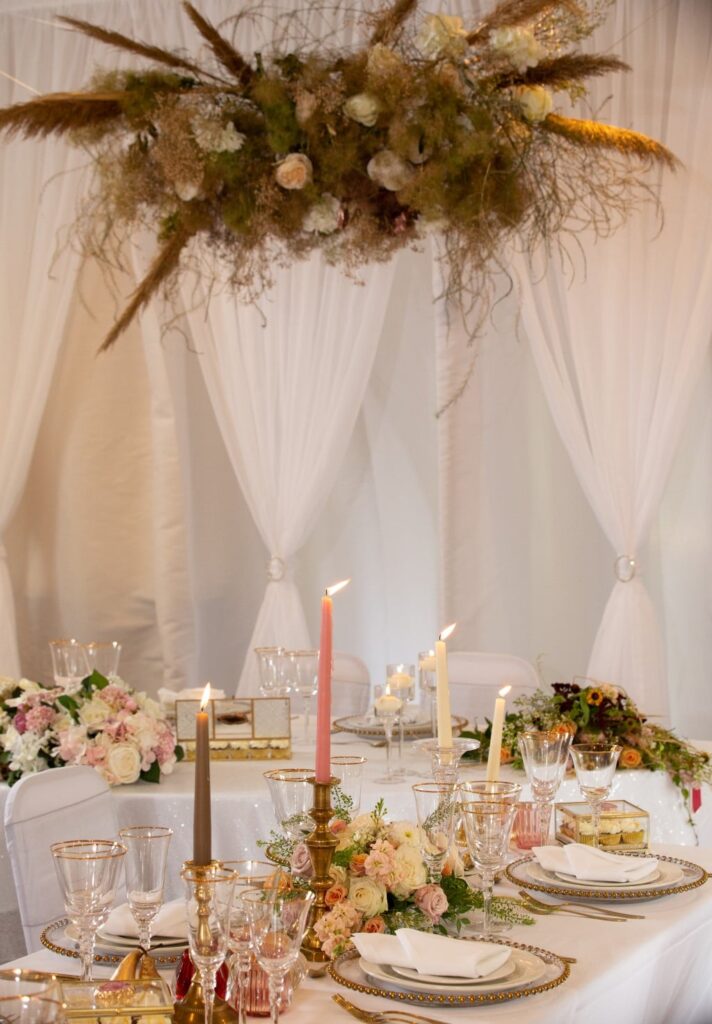 A flower cloud is such a statement piece! Bringing not a drop of rain but lashing of joy. Creating a golden halo above our couple. The cloud was created with a selection of mellow golden branches and romantic cream roses, pampas grass, ferns, gypsophila, roses, hydrangeas and much much more.
An Ombre Themed Wedding Decor Table Setting
A picture paints a thousand words. The images from our photoshoot at the Bear Hotel in Hungerford did just that. It shows an opulent venue setting created with gold-accented glassware and cutlery from Simon of Event Hire UK.
Even the agate slice details on the little golden glass boxes mirrored the ombre theme of the decor.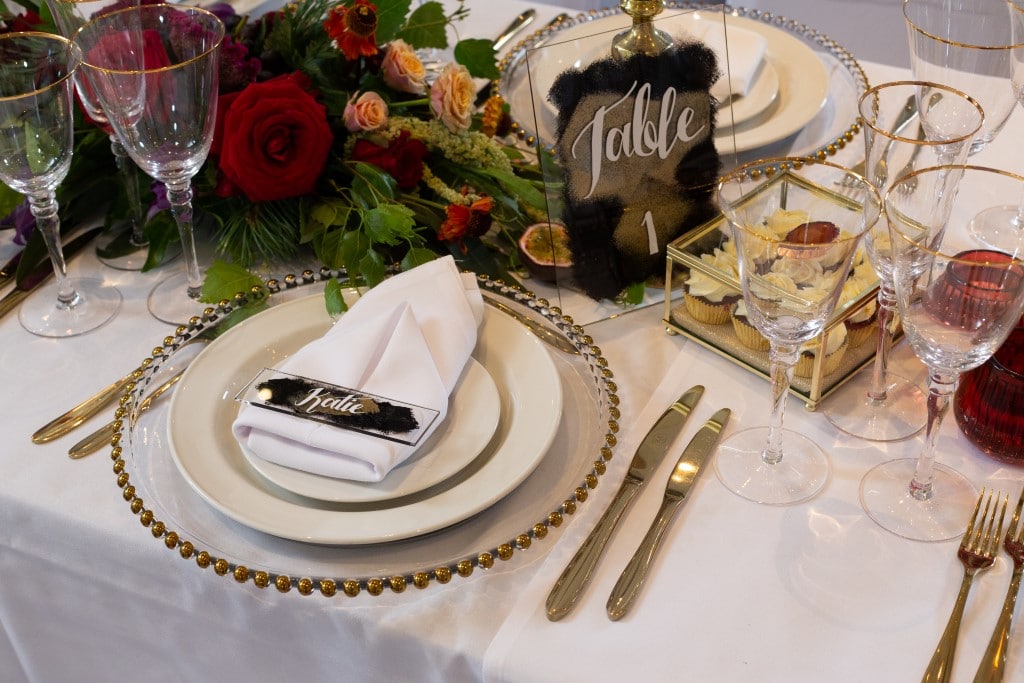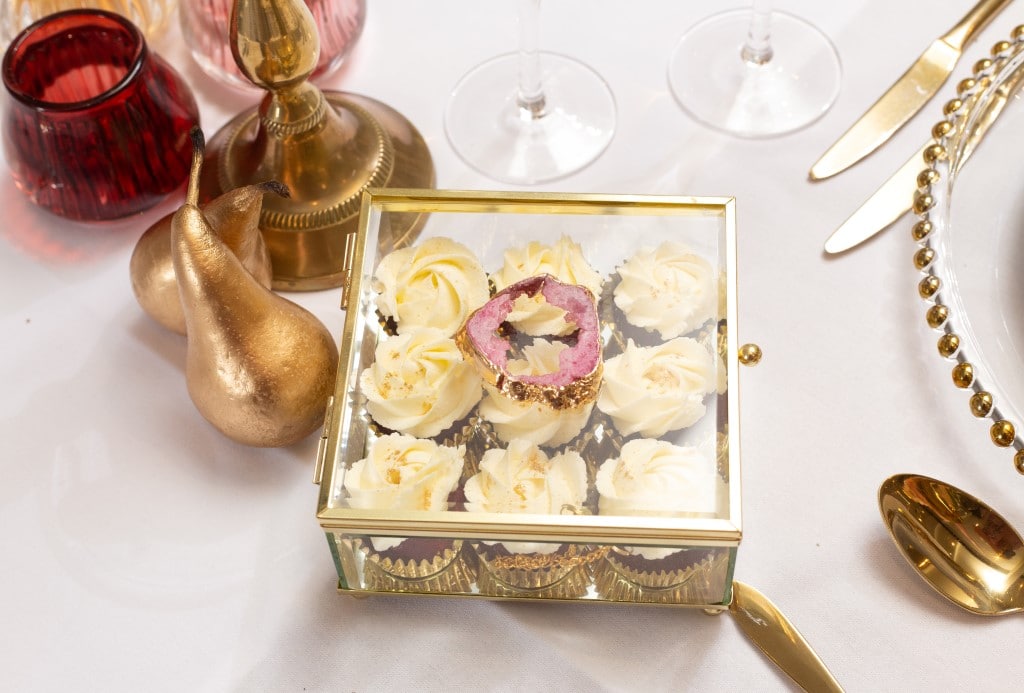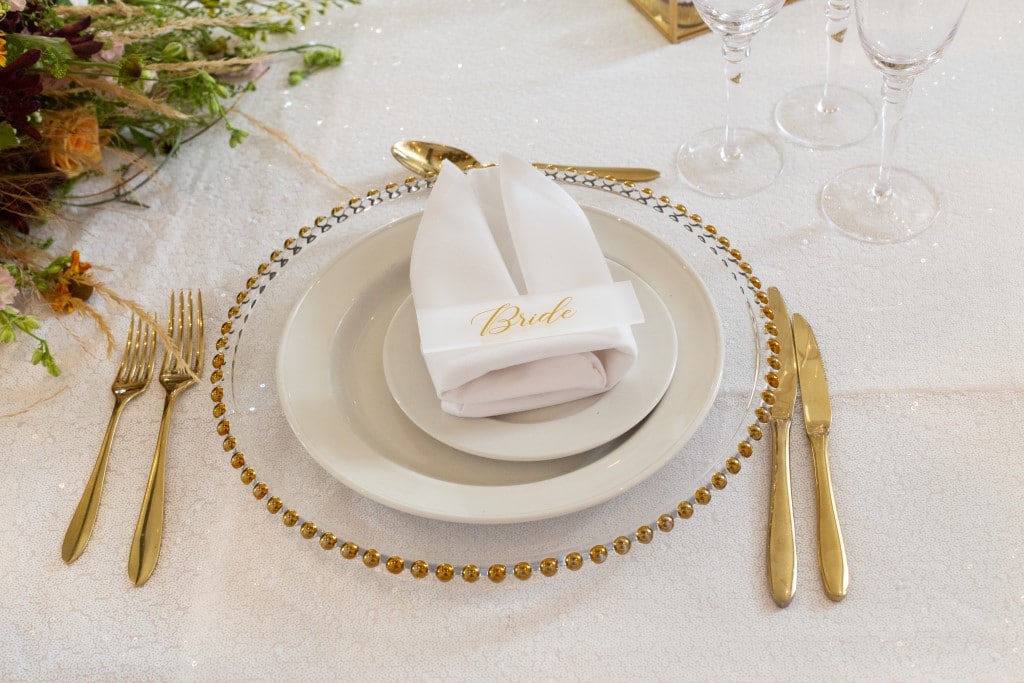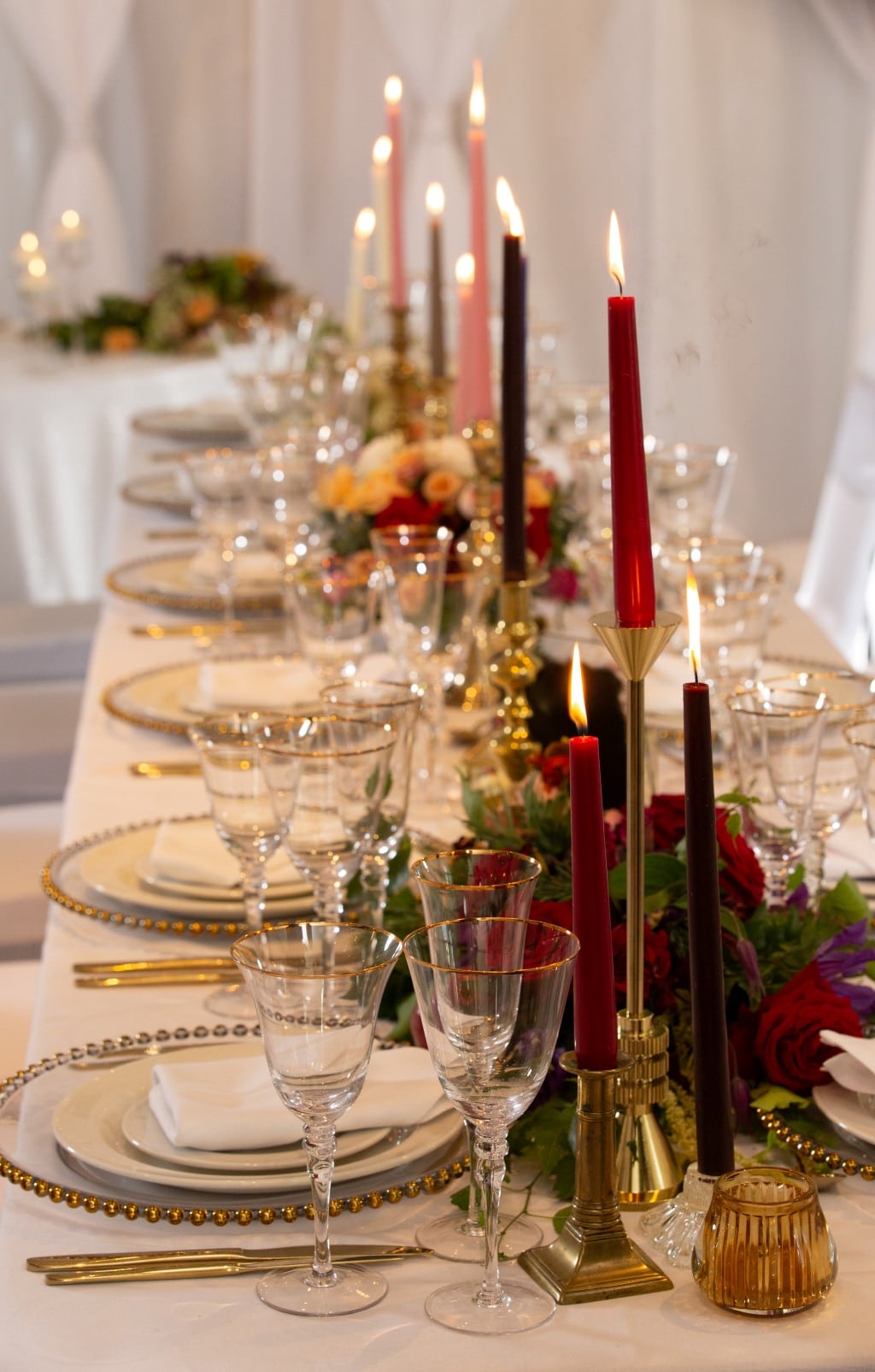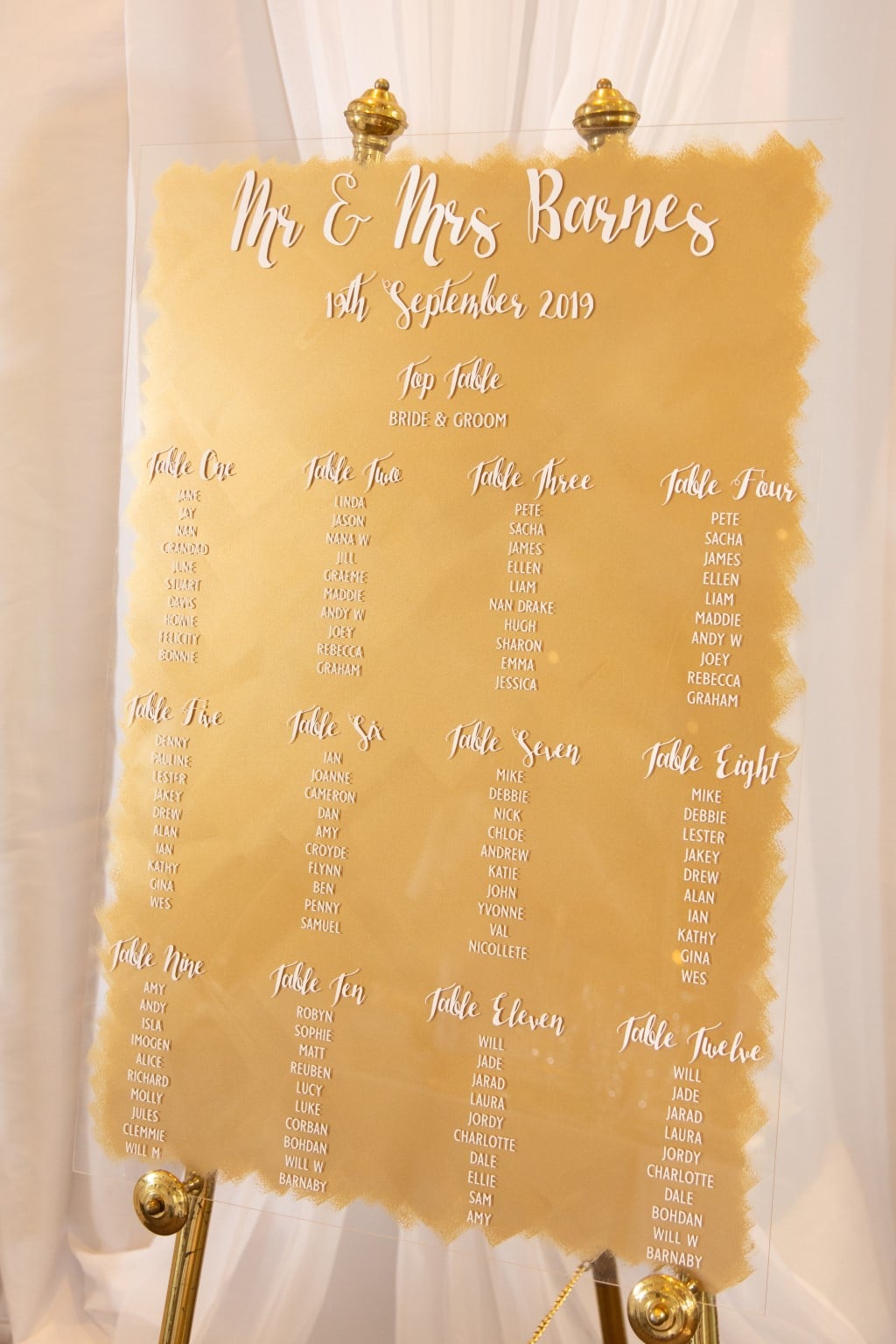 The Pièce de Résistance
I always advise my brides not to hide their wedding cake, and by extension, the cake cutting ceremony, in a dark corner. Rather make a feature of it. And how better to make a statement to remember than with a Fabulous Functions UK flower wall?

Our fabulous peach and cream-toned flower wall made a wonderful backdrop for this glorious seven-tier crystal cake tower from Fay's Fairy Cakes.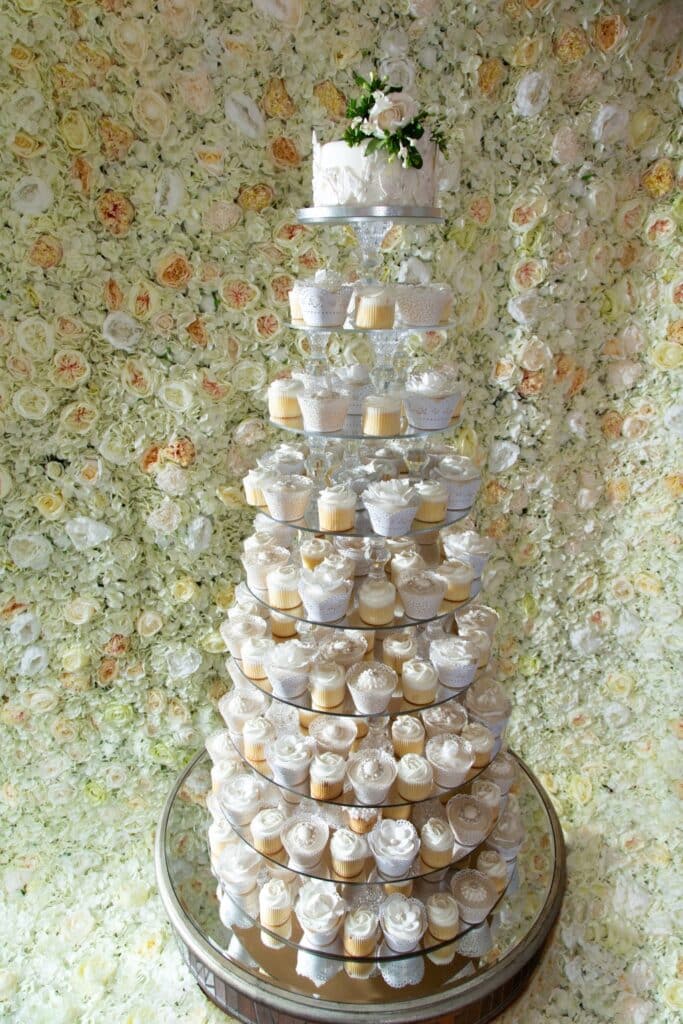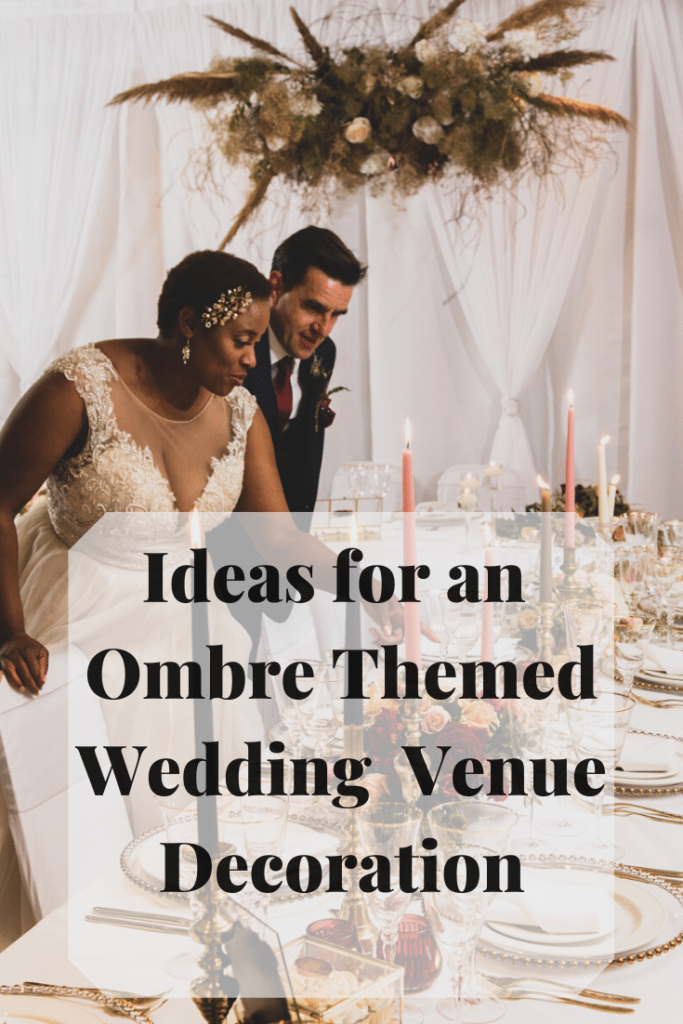 To see more images from the gorgeous photo shoot of this awesome ombre themed wedding decor visit the Mrs P and P blog here.

And to find out how Fabulous Functions UK can make your wedding venue decor dreams come true, fill out our online form here and we'll get right back to you. Or, if you prefer, call us on 00 44 7511 842 451.