Place Cards and Escort Cards: What's the difference?
Place Cards and Escort Cards
If you're asking yourself 'is there a difference between place cards and escort cards, the answer is yes. There is. Though it's easy to confuse the two. Despite appearances the two are not interchangeable. Indeed, as this article from Brides.Com explains, they have quite separate – albeit complementary functions.

Escort cards
When I attended the wedding of a cousin across the pond, the couple placed all the name cards on a table. Each guest had to find the card with their name on it – and the table they were sat at. They then sat in whatever place they chose.

That's the escort card's purpose in a nutshell and you can see how they'll work well for an informal or small wedding. If what you want is to direct your guests to a particular table and let them choose their own seats then the escort card fits the bill. Because you're leaving your guests to select their own place at their designated table, the escort card is the more casual option.
Place cards
The place card, on the other hand, is exactly what you'd expect it to be. At the entrance to the wedding breakfast room there's a table plan of some sort indicating a table number for each guest. Placed on every setting, the place cards mark where individual guests are to seat.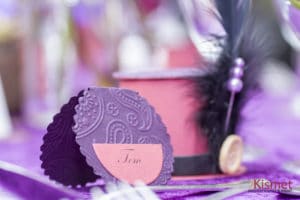 For a large wedding this is quite the best system for making sure everyone sits where you want them to. But whether your wedding is large or small and intimate, if assigned seating is what you want then place cards are the best choice.
Going both ways
You can of course always use both – though you might consider that to be over-egging the pudding.

Display the escort cards at the entrance to your reception area or wedding breakfast room so your guests can see what table they're assigned to. Then, on the tables themselves, the place cards inform the guest where they're to sit.
Channel your creativity
The place card is a great opportunity to get creative. You can attach them to favours, tuck them into a slit cut into a wine cork or simply stand them up. The only limits here are your imagination – and your budget.

In recent blog about choosing an alternative to Champagne for the wedding toasts, we wrote about a wedding that combined the drink with the wedding favour. In similar vein, there's scope for doing something similar with your place cards.

What are your thoughts on using both place cards and escort cards? Do you think they're simply an unnecessary expense? Or do you see them as a good way to make sure the hours you've spent labouring over your table plan don't go to waste by avoiding any chance of confusion? And maybe even serving more than one purpose.
Feeling social?
If you're the social media sort why not see what we're upto on Facebook and Instagram?

Oh, and do check out our wedding table plans and easels along with the rest of our treasure trove of venue decor accessories to hire.

And see also our planning tips for seating guests.