Planning for a rainy wedding day
This is Britain. So, when it comes to the weather anything can happen at any time of year. In fact several different weather events in the course of one day are not impossible. So it makes sense to plan for wet weather on your wedding day!
Of course, you want a beautiful day for your wedding. Or, at the very least, a dry one. But the Jet Stream is capricious. We know it's not fair that all your careful planning gets sabotaged by a storm front coming in from the Atlantic. But there's no point stressing over what you can't control.
The French have a saying: Mariage pluvieux – mariage heureux. Or 'Rainy wedding – happy marriage'. And the Italians console themselves with Sposa bagnata – sposa fortunate: 'A wet bride is a lucky bride'.
Comforting thoughts surely? Yet not solace enough to make you hope for rain. In which case, the best you can do is hope for the best but prepare for the worst. So, welcome to Fabulous Functions UK top tips for wet weather wedding planning – whatever time of year your wedding is taking place.
Plan some shelter
We know you want your guests to sip Champagne and take delicate bites of canapés in the Arcadian splendour of the garden at your venue. But, should it rain, where else can they go? Be sure your planned venue can accommodate your guests in the event of wet weather.
Don't be floored
Having a marquee? Then give careful thought to its flooring. Yes, coconut matting is cheaper. But if it rains it's tricky to walk on. Wooden floors though will weather-proof your marquee against all but an actual monsoon.
Get stacks of umbrellas
Buy or borrow a white one for the bride. Ditto the bridesmaids – or colour match them to their dresses. For everyone else – anything goes. Make it the job of the ushers to make sure anyone who needs one has one.
You might think about wellies too. Guests can choose to wear them if the ground becomes sodden and muddy. It may take the glam away from your day, but the umbrellas and wellies will make for some great novelty wedding photos.
The website Funky-Wellington boots has a brilliant bridal wellington boot in cream with a bow on the side and a pink lining. So you can put the boot in – in waterproof style!
Photography prep
In the British climate, the sun doesn't always shine on the righteous. In which case, it's best to have a wet weather plan for the photographs.
Discuss your wet weather wedding planning with your photographer and have a contingency plan in place – they should have had lots of practice with this eventuality! But make sure that you're sure of this!
As much as you don't want to hear this, the light on a rainy day is much better for photography than bright sunshine. And brollies make for fun props.
Check out this blog, Our Top 11 Tips for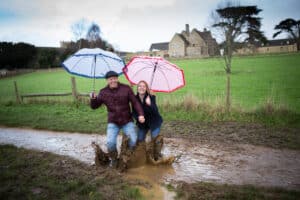 Taking Wedding photos in the Rain, from One Fab Day, for wet wedding day photographic inspiration.
You can also use the weather to your advantage for fantastic & unusual photos if your pre wedding shoot is in rainy weather.
5. Allow extra time in the schedule, don't hide from then rain. Welcome it like Kim and her fiancé did.
Timing is key to make a wedding go without a hitch – even in the best of circumstances. Which is why it's sensible to allow extra time to allow for any inclement weather. That way you'll have time to apply the waterproof mascara!
Make-up worries aside, it's helpful to allow lots of time for guests to get to and between (if the wedding breakfast is somewhere other than the ceremony) venues. Build in that comfort-cushion and you've got lots of time to sort out last-minute hiccups without fretting about the schedule.
6. Lay on warming refreshments and comfort food
This one is of particular note for a winter wedding. If you're set on part of your wedding being outdoors, even in winter, you might want to offer an alternative to ice-cold fizz. Mulled wine or hot chocolate will fit the bill.
We hope that's given you some things to think about and some reasons to be cheerful if the skies are less than bright when your special day dawns.
For some further tips check out Wed Magazine.co.uk wedding rain whatever the weather.
We'll leave you with this thought: If the rain does fall remember this: 'a dry rope might be easier to handle. But the wet knot is harder to undo.'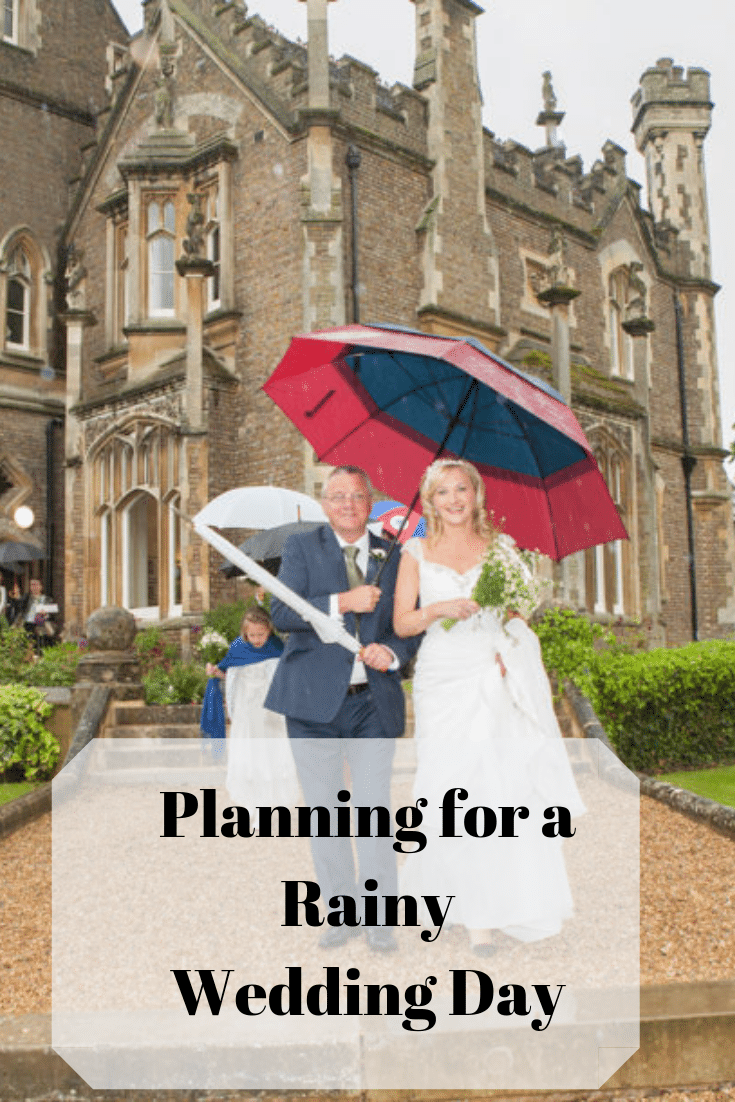 Until next time
Sandra
Photos courtesy of Clare at www.barefootphotography.co.uk