If you're looking to bring a new dimension to your wedding or other special event, how about giant garden games? Whether you use them indoors or outdoors, they'll provide hours of fun for the young or young at heart.

Big games for the great outdoors, such as these in our hire package are perfect for parties, family gatherings and weddings. Or simply at home in your own garden. Fab for barbecue season. After all, who doesn't like Connect Four or Jenga?* Well, they're even more fun when in their outsize form!

Choose any four oversized lawn toys from our range to delight your guests and create your preferred garden game hire package for only £60.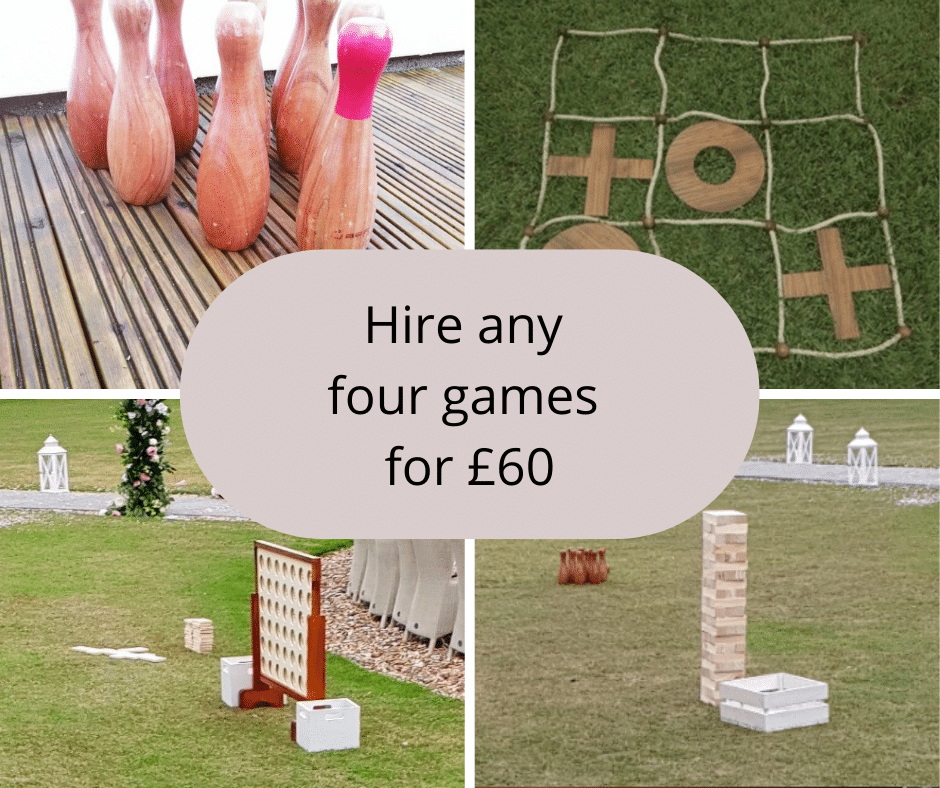 Giant Jenga
Our giant Jenga stands 5 feet tall when built. Challenge your guests to build this skyscraper Jenga as tall as they can before it tumbles and they shout Jenga! There's an opportunity here for teams and prizes and all sorts of fun.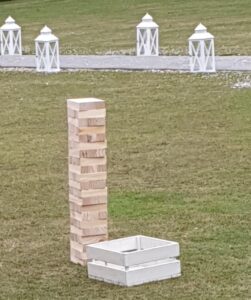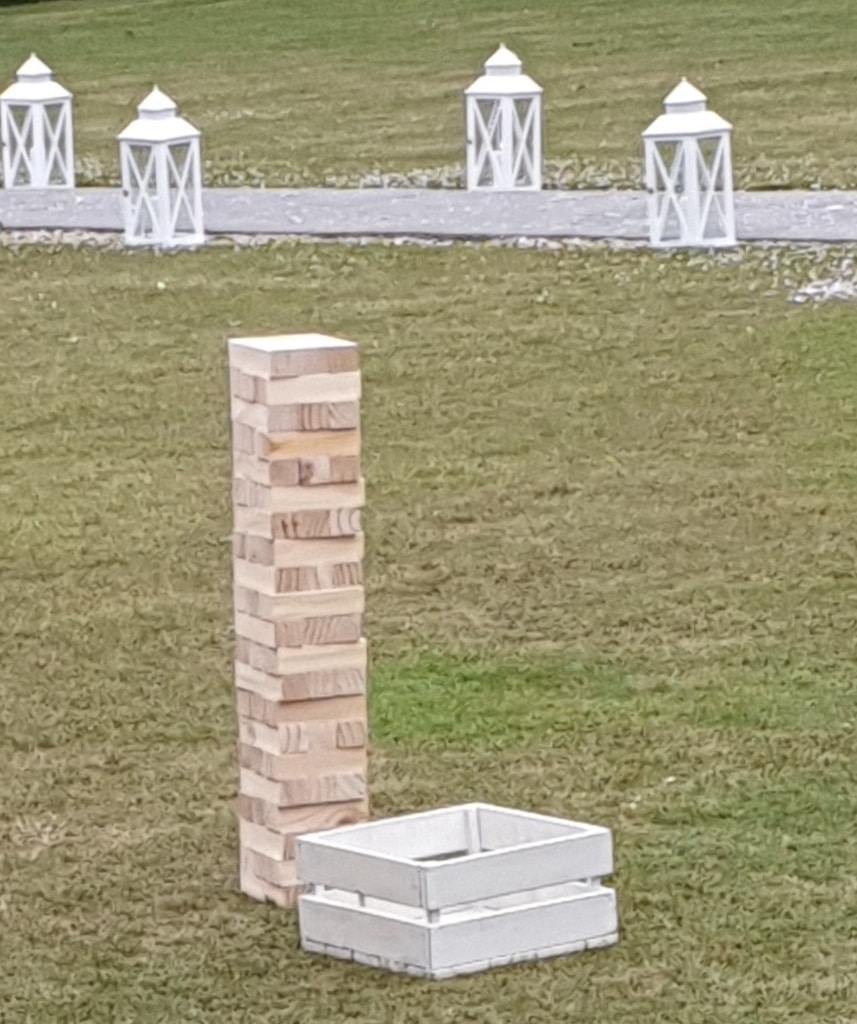 Giant Connect 4
Standing at a mega 100cms tall and 120cms wide, this out-sized Connect 4 comes with extra large discs. We don't guarantee that they'll help you to win though.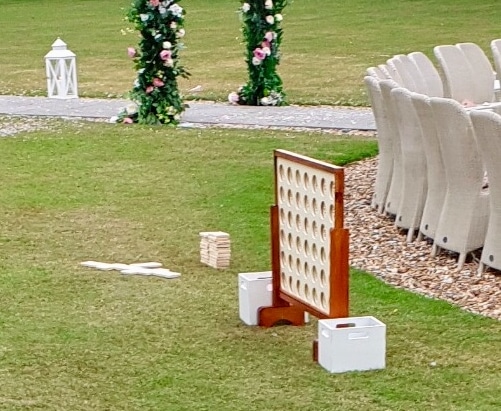 Super-sized Skittles
Skittles is an old lawn game and target sport with continental European origins. In regions of the United Kingdom and Ireland the game remains as a popular indoor pub game. Skittles is the forerunner of our modern bowling.

This hire set contains nine skittles, a king pin and three balls. Each skittle is 23 cms in height.

See how many strikes you can get.
Great big Dominoes
The game of dominoes has been around from as early as 1120 CE, in China. Though we suspect not in ginormous form like these.
Big Noughts and Crosses
Noughts and crosses – also known as Tic-Tac-Toe – is a classic pen and paper game transformed here into outdoor or indoor floor fun.

This one measures 120cms x 120cms, with five giant noughts and five giant crosses of 30cms x 30cms each.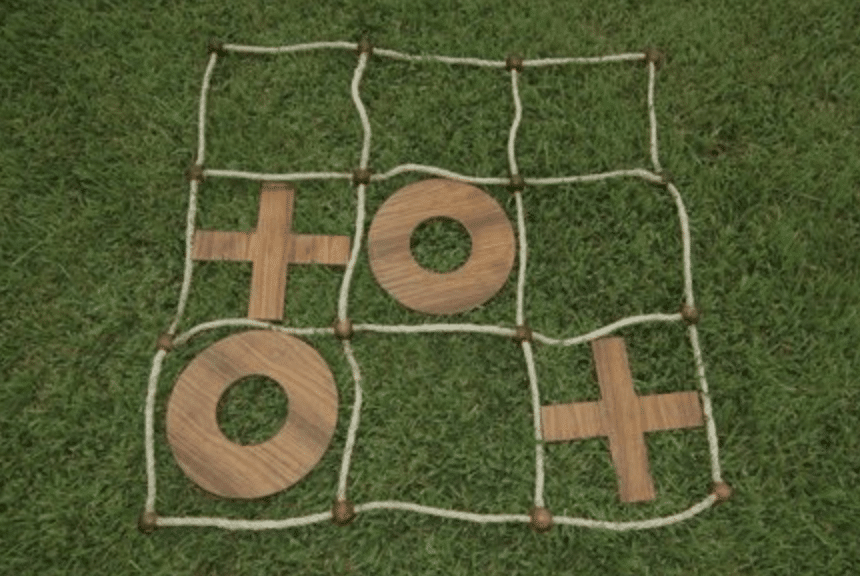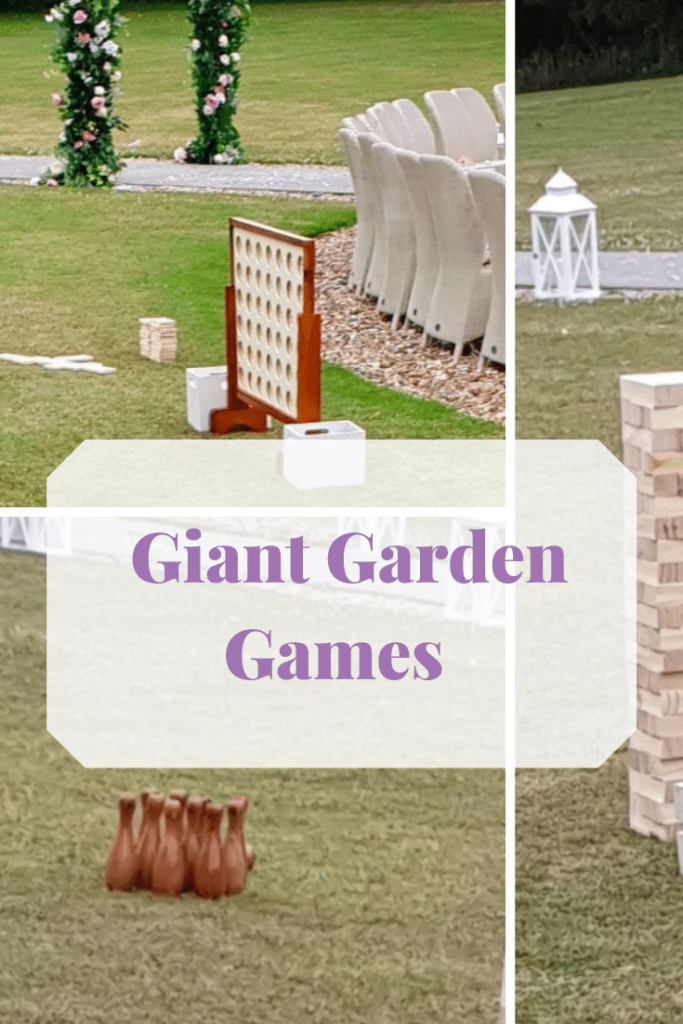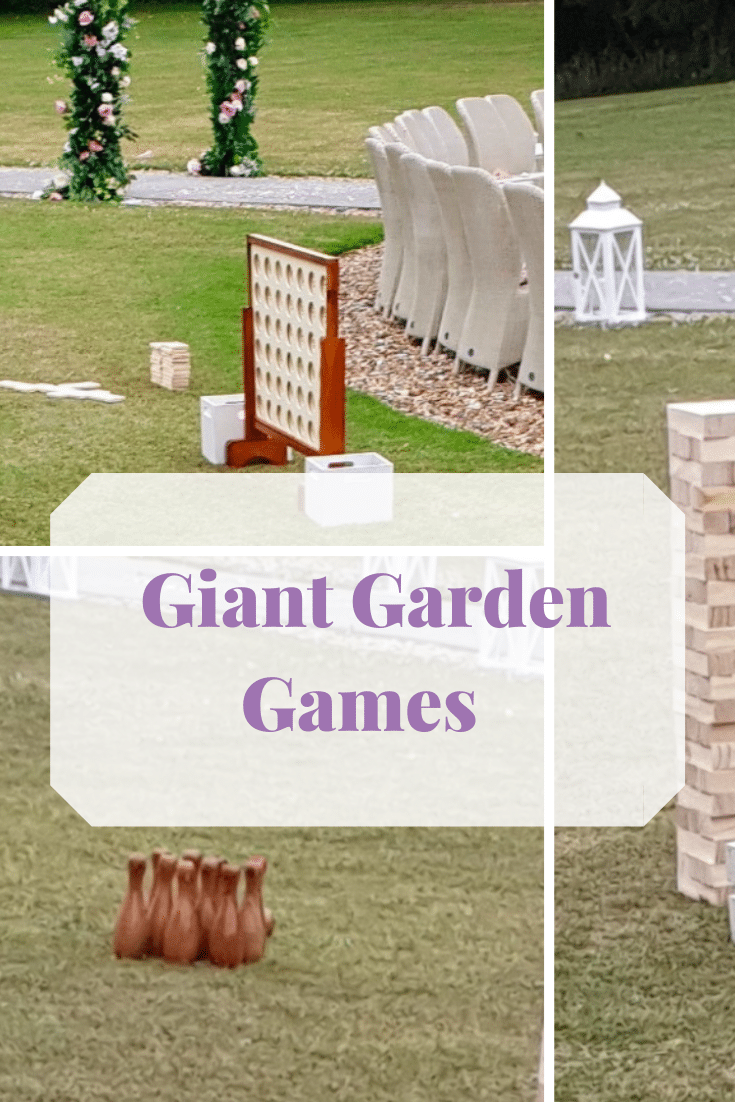 Additional games available
Tug of War Rope
Spin the Plates
Sack Race Sacks
Bean Bags and multi coloured rings
Giant Garden Games to hire
You can hire any four out of our current range of five outdoor activities for £60

Our games packages are available for you to collect and return. Alternatively delivery to your venue is available subject to delivery costs.

We're always interested in growing our range. Is there anything you'd like to see? Tell us and we will see what we can do.

Find details of how to contact us on our website here.
Other packages and accessories we offer
Along with our garden games to hire we offer a host of other venue decor accessories, suitable for any special function you're planning, at value-for-money hire charges. Visit our treasure trove and accessory hire sections to find out more. Even our venue styling packages transfer to non-wedding events. But if it's wedding-specific services you're after, check out our wedding flower packages.
---
Jenga background
*There's some interesting background to the invention of Jenga in this Guardian article. Leslie Scott, the inventor of the game says:

'When I was 18, my family moved to Ghana, a country rich in wood. We would often play a game with these little wooden blocks from the local sawmill. I brought a few sets with me when I moved to Oxford in my 20s and, whenever I played it with friends, they became obsessed – so much so that I'm sure I was only invited out because I used to bring my blocks. It was clear everybody loved this game, but it took me a while to realise that it didn't actually exist as a product. So I decided to put it on the market ….'

'… Jenga was an enormous hit at the 1986 Toronto toy fair. I took orders for 400,000 games! Irwin had a good relationship with Hasbro – who would become key to Jenga's worldwide success. But neither company wanted it to be called Jenga. They said: "It's a great game, but it's got a lousy name." I'd thought very hard about the name, though. I had deliberately not chosen a descriptive name like Tumbling Towers. I had this idea: that when you said Jenga, everyone would think of the game and nothing else.

And he was right wasn't he? About the name. And 1986 – gosh that's some years now it's been around eh?