Where is the best location to display your wedding cake at your venue?
Wedding cakes don't come cheap. In fact, it's the most money you're ever likely to spend on a cake in your life. Yet so often the wedding cake is not placed and displayed in the venue in a way that gives guests the opportunity to admire it and compliment it. All too often this costly confection is stuck in a dark corner as if it's something the bride and groom are ashamed of or it's an afterthought. And what a shame that is, when you've planned and re-planned every other detail to an inch of its life. So what should you consider when planning where and how to display your wedding cake to give it the attention it deserves?
Where to display your wedding cake
As this useful blog from Hitched.co.uk points out, as a rule the wedding makes an appearance at the start of the wedding reception and is centre stage with the cake cutting ceremony just before the DJ hits his first tune of the evening . Depending on how long you expect the reception to run for, your wonderful wedding cake will be on display for quite some time.
You want to make sure that the cake will hold up during this period. To maximise its chances, here are some tips.
The 'Do Nots' of your cake location
1. Don't place your cake directly in front of a window. If sun is streaming through it's likely to go goooier than a mud spring. And if the window happens to be open it'll attract all manner of insects intent on a feast.
2. For obvious reasons don't place it either in front of, or near to, a door.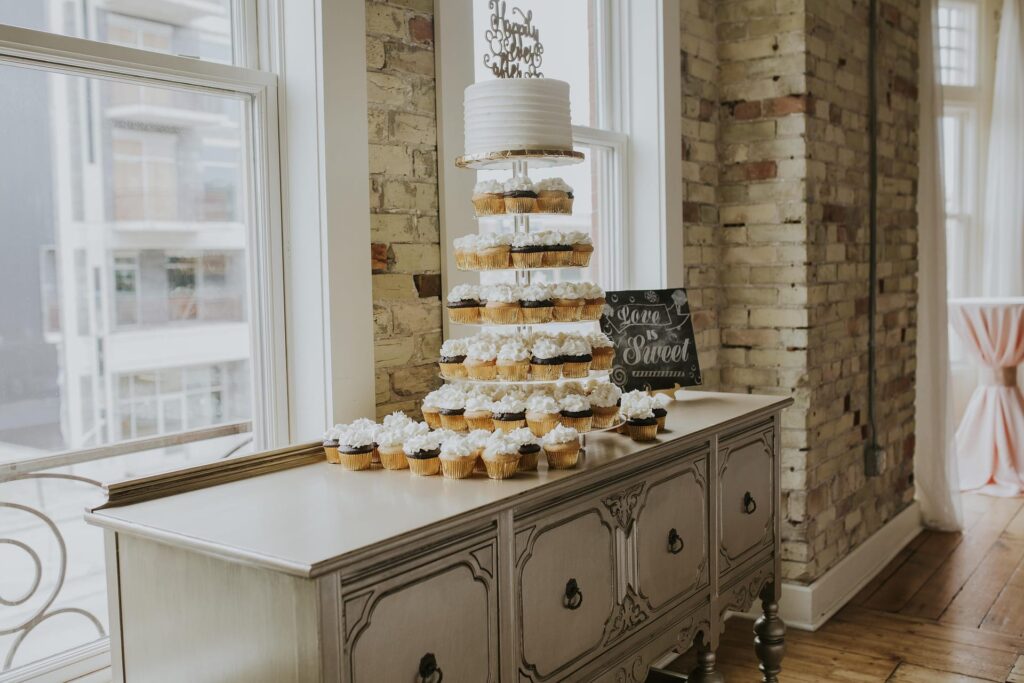 3. Not in an area where venue staff or guests are walking past. A handbag slipping off a shoulder and your beautiful cake could be in crumbs on the floor!
4. Check too that it's not in the vicinity of a fire extinguisher! Terrible for your photos too – your photographer will have to rely on photoshop for some heavy editing.

Now for some 'Dos':
1. Display the cake in a prominent spot where the lighting is good. If the spot is good but the lighting isn't then talk to the venue about how you might enhance that. At this point I'm duty bound to point out that the Fabulous Functions flower wall makes a superb backdrop to your cake cutting ceremony. And think about the photos! How gorgeous will your cake – and you – look with that as a backdrop?
2. It's a good idea to have a chat with your cake maker. Give them all the information you can about your venue before they crack open an egg. Your cake designer should be able to advise you on positioning your cake and how long you can leave it out without it degrading.
3. Give some thought to the table linen for your cake table.
White table cloths are not good if your cake is white. On photographs the two risk blending into one.
Coloured table cloths will make a white cake stand out – as will a lighter shade of linen for a dark-coloured cake. Give careful thought to the colour contrast you can create and it will make your photographs stand out.
For something a little different that won't break the bank, Fabulous Functions UK has some divine sequinned tablecloths for you to hire. We also have a selection of sumptuous crushed velvet tablecloths to hire.
Visit the table linens section in our hire section to check them out.
4. Table size: This is an important consideration. If your wedding is small and therefore the cake is too then placing on a tall cocktail table will make it stand out. Don't, whatever you do, put a modest sized cake on a big table. It'll look like a big bun rather than a small cake. The key here is proportion.

The chances are that your cake is part of your décor. If you've themed your décor then it will be. So don't waste all that hiding it in a corner. Let your wedding cake take centre stage! Well, after the bride anyway …
Forward planning
Fabulous Functions UK is here for all your event planning. For weddings? Yes definitely. For other celebratory events? Yes, absolutely! If you're planning a special event and could use some help and advice pick up the phone, give us a call on 07511 842 451.
A coffee and a chat is a great way to find out how we can help.
Find all our contact details are here: https://www.fabulousfunctionsuk.com/contact/