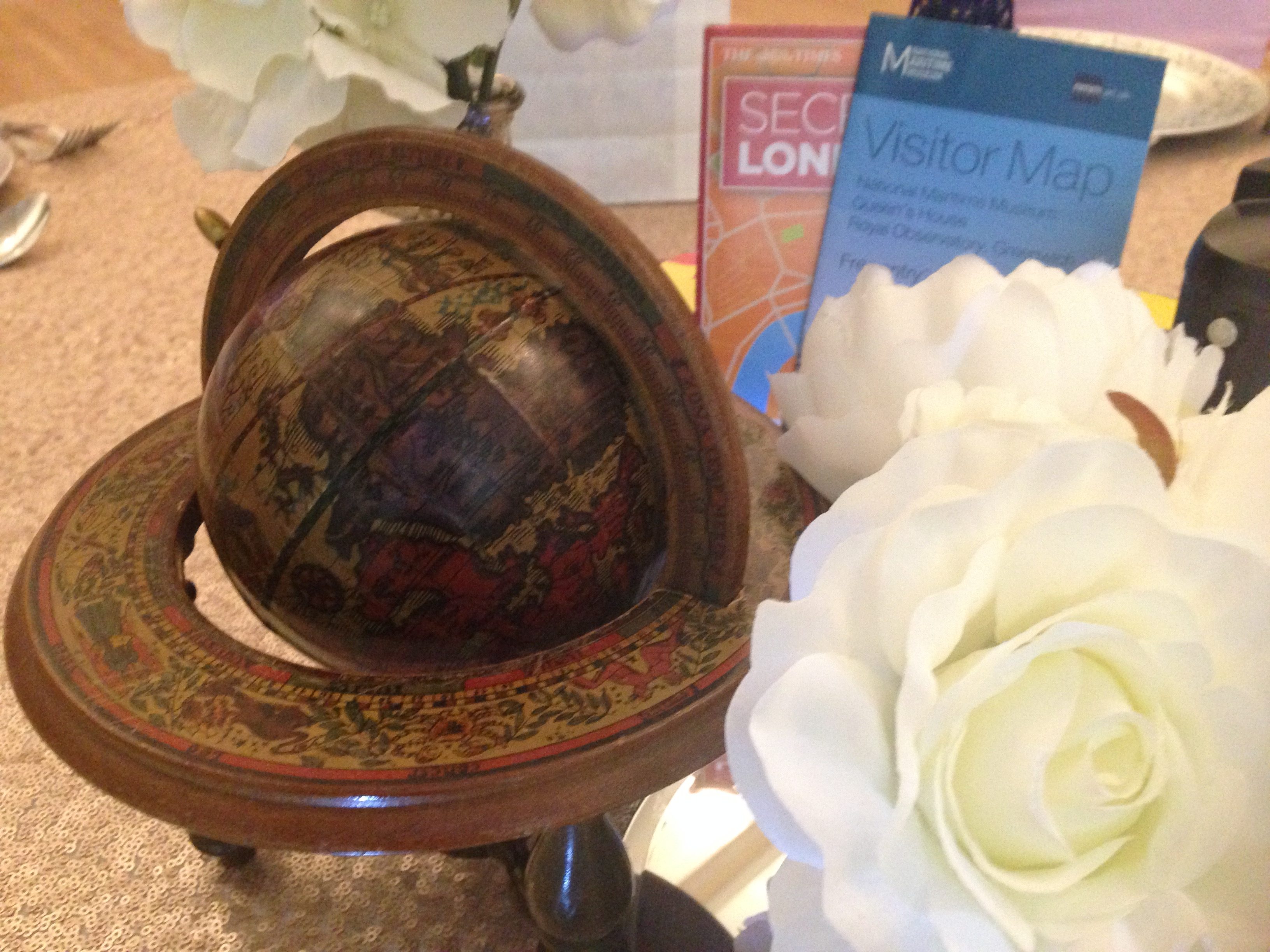 In this blog we show you how to create a travel themed venue decor in your wedding or party venue. This is a fun theme to create if you're a globe-trotting loving couple. What's more, it's one that can be done equally well if you're on a budget or if you've got cash to splash.
Create a travel themed venue dressing on a budget
As with creating any venue décor, hiring decorative elements can save you a whole heap of money. Here at Fabulous Functions UK we've got some great stuff for you to hire.

We offer you a cost-effective way to travel the world at your wedding in our accessory hire shop and treasure trove online cave:
Vintage suitcases: stacked in a corner these battered suitcases will evoke a sense of journeys undertaken. And serve as an allegory for the one you're about to undertake as man and wife. You can put them to good use as a repository for your cards and small gifts or simply have them as decoration.

Vintage style globe: or any globe for that matter. Ours spins on its wooden base so you and your guests can travel the world without leaving the venue.

Message in a bottle: this personalized message in a bottle adds to the travel theme. Ask us for hire details on this item.
Things you can beg, borrow and cadge to add to your travel theme
Scour charity shops and car boot sales, ask friends and neighbours if they have any of the following:
Vintage cameras.
Guide books and phrase books
Maps and atlases
Travel posters and bunting
Travel writing books
Vanity cases
Sunglasses
Old passports
Old tickets and boarding passes
Bunting and flags of the world
Compasses, telescopes and binoculars
Any or all of the above will be easy to find or borrow from your family and friends.
This Pinterest page has loads of suitcase cake suggestions. Or take flight with a cake in aeroplane form.
How to create a travel themed venue decor with more cash to splash
Have the bridesmaids carry vanity cases instead of bouquets. So much the better if you can get hold of vintage ones. But any vanity cases will be fine. They don't need to match. Go for a mis-matched eclectic look.
Instead of confetti make paper punches from maps. These would be great sprinkled on the tables at the reception too.
If you're the crafty sort you can make a bouquet out of maps.
If your wedding is a destination wedding make a signpost of the places where guests have travelled from.
Use airmail stickers and Par Avion stationery for your invitations.
Use luggage tags/labels as place settings.
Here again Pinterest is a rich source of travel theme ideas.
If you've got some ideas for a travel themed venue decor for your wedding or party and you want some help putting them into practice then speak to us! We love bouncing ideas around and seeing what we can do to make a plan come together.

Fabulous Functions UK has done its fair share of travelling and living abroad so we're more than up to the job of being your travel courier. Why not get in touch with us to find out more?

Drop us a line on hello@fabulousfunctionsuk.com or call us on 07511 842 451.
If you're feeling sociable, you'll find us on the usual social media channels: Facebook, Twitter and Instagram. There, you'll see plenty of images of our work. Ditto Pinterest too.

Do drop by and say hello. Or Hola, bonjour or even buongiorno.