Kerry and Mark went for a silver and grey theme for their wedding reception at the Stanton House Hotel in Swindon.

Such a decor could easily have felt cold and clinical. So to prevent that happening they softened and complemented it with a pastel flower wall. Positioned behind the top table it made made a stunning backdrop that introduced a hint of colour and femininity to an otherwise sharp and sophisticated scheme.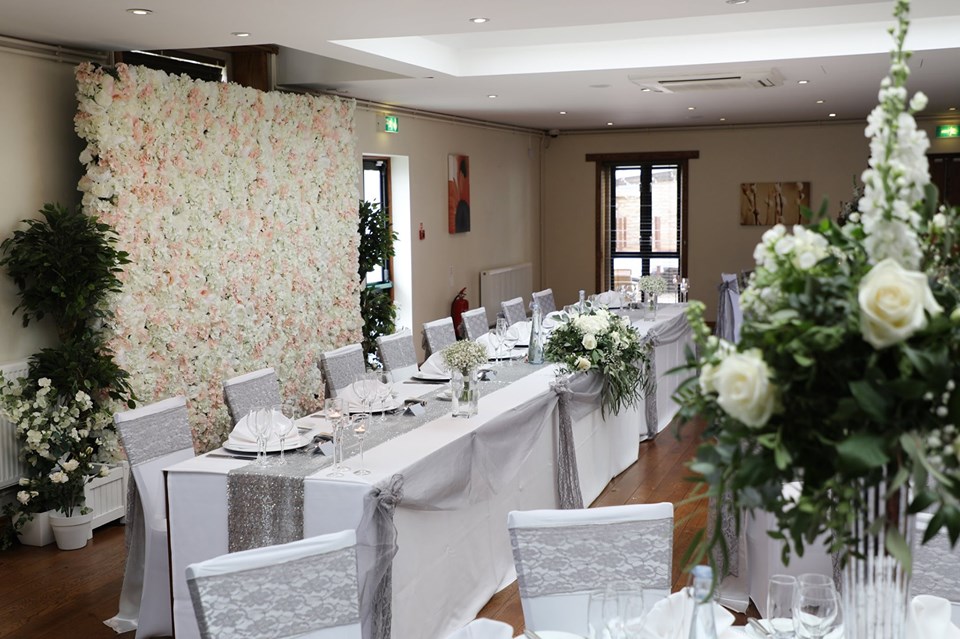 We met Kerry at a wedding fair held at Steam Museum, Swindon. I'm not sure how many people know that they can have their wedding reception in the Steam Museum. They can cater for a small intimate 'do' – right up to a mahoosive affair with all the bells and whistles!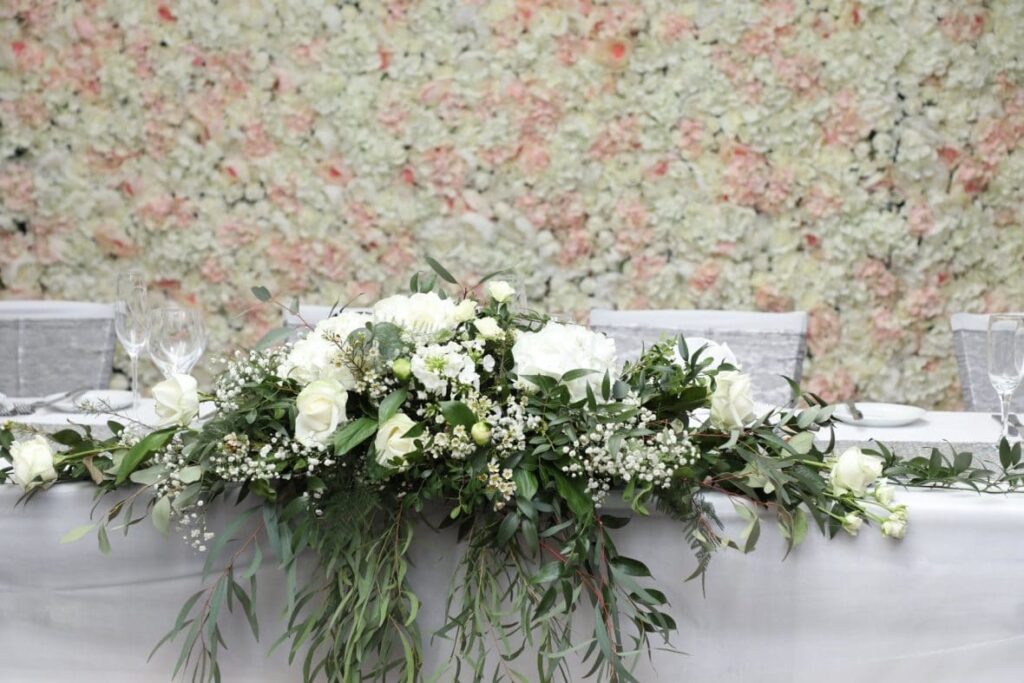 A silver and grey wedding theme decor

Kerry chose a silver and and grey theme for their wedding. And, as luck would (or forethought) would have it, we had just the right accessories from our venue accessory hire department to help her and her fiancé bring their vision to life.
Staggered height tea light holders brought warmth and ambience to the table settings. Check out our treasure trove for tea-light votives and other illuminating options all available on a cost-effective hire basis.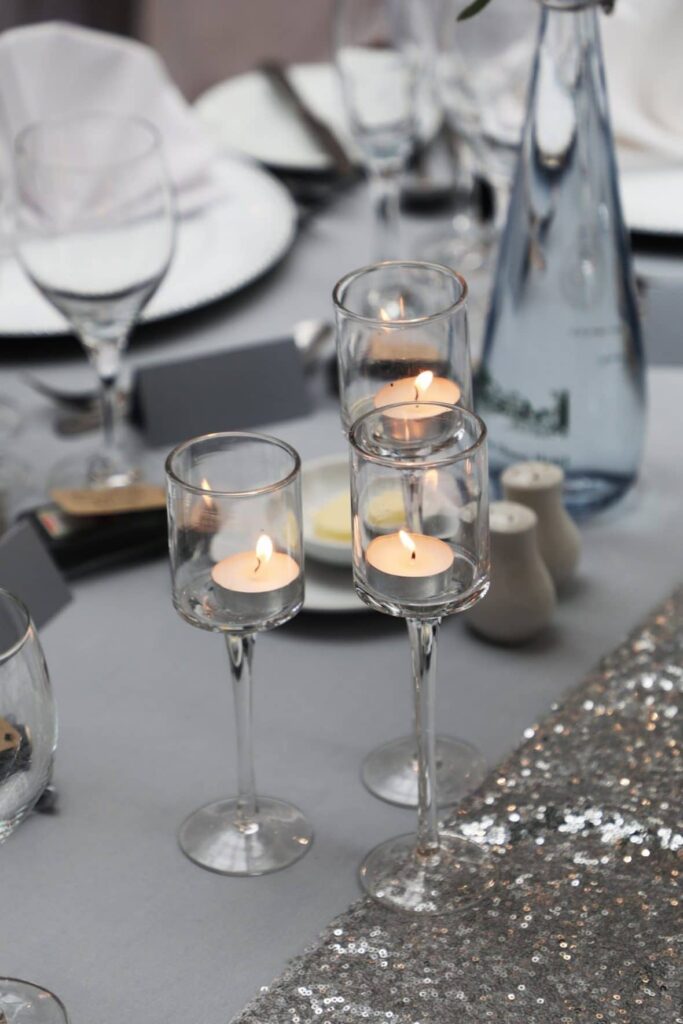 The silver and grey theme included silver grey table linen, platinum satin sashes with a silver lace sash overlay for the chair decoration and silver sequinned table runners.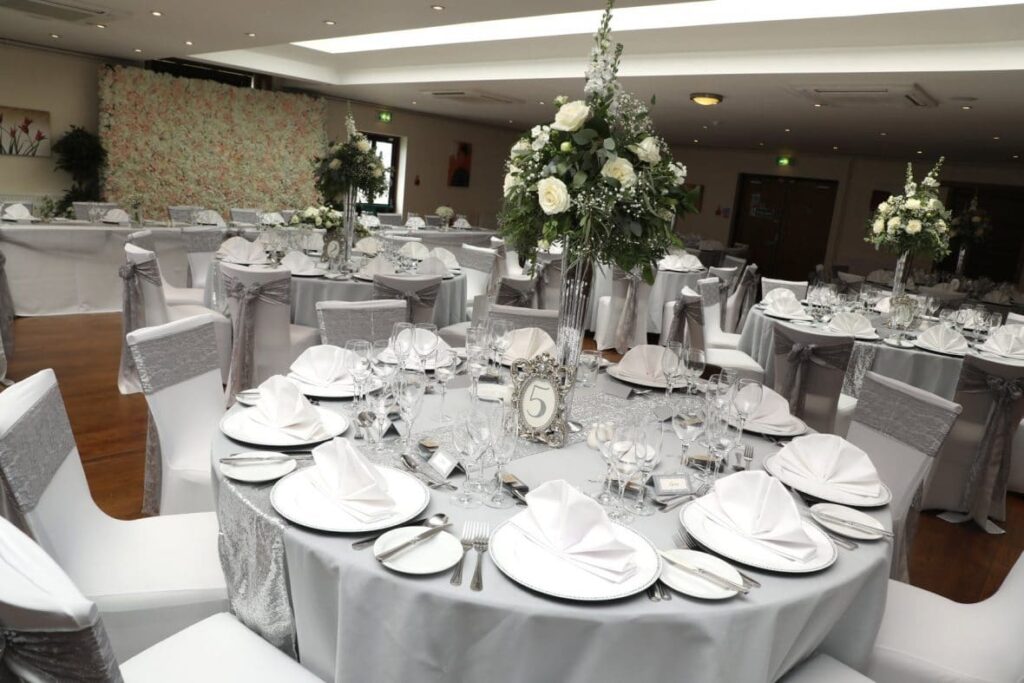 White charger plates with a diamanté decorated rim completed the beautiful setting. Displaying amazing resourcefulness, Kerry's brother sourced the tall glass mercury vases.

See our range of chair covers, sashes and chair decorations, all available to hire, here. I'm sure you'll agree that the sequinned table cloths lend a glamorous air to to this cool and sophisticated silver and grey theme. We have a range of table linens to hire – there's something for most every style you can imagine.

Here at Fabulous Functions UK we offer four venue dressing packages. There's something to suit all budgets from off-the-peg to bespoke.
1. The Classic Venue Styling Collection is a DIY hire accessory collection for the DIY couple who along with family and friends, wants to add to their wedding day memories by decorating their venue themselves.
We offer two off-the-peg collections to suit your various requirements. Both serve a guest list of 50 guests.
2. The Reach for The Stars Styling Collection offers you all you need to style your venue.
3. The Touch of Glamour Styling Collection give you an added level of decor, detailing and sophistication.
4. The Bespoke Option allows you to input your ideas. With this one you can take accessory items from all the packages, add the accessories you have your heart set on and create a one of a kind design for your wedding venue.


Photos credits: Thanks go to Glen and Colin of Your Digital Memories
Our wishes for a long and happy life to Kerry and Mark.
Venue styling inspiration
We've got other venue styling themes showcased in our blog. So if this silver and grey wedding theme doesn't appeal to you then have a look through this section of our blog for more inspiration: https://www.fabulousfunctionsuk.com/category/venue-styling-themes/

Or of course simply to talk to us! If you've got ideas but are't sure how to implement them we can most definitely help. Creativity and imagination go hand-in-hand with Fabulous Functions UK. So do not hesitate to get in touch. You can find our contact details here.
Social Media Connections
We would love for you to join our social media family and you'll find our Instagram and Facebook links here. On those pages you can see lots of images of our work and testimonials from happy clients.