You'll find wedding card post boxes of some description at every wedding. They're fun and they're functional – they provide a safe place in which guests can deposit their greetings to the couple.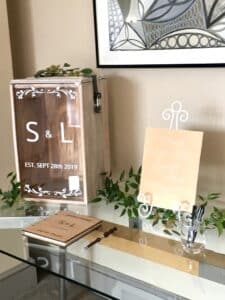 We have three different styles of wedding card post boxes for you to hire for your wedding while our treasure trove of hire accessories also includes a treasure chest post box. That one works well for a travel-themed wedding or party. Or even a pirate party. Shiver me timbers! 

We also offer a wedding card post box that you can buy and personalise as a keepsake of your momentous day.
WHITE VICTORIAN STYLE POST BOX
This pretty, floor-standing, Victorian-style wedding card post box is perfect for a vintage themed wedding or traditionally decorated wedding venue. It costs £30 to hire and the hire cost includes delivery and collection within a 10-mile radius of Swindon. Alternatively, you're welcome to organise collection and return of the hire item yourself.

It stands 116cms tall and comes with a key for added security. So, it's the perfect place for your guests to deposit guards and small gifts.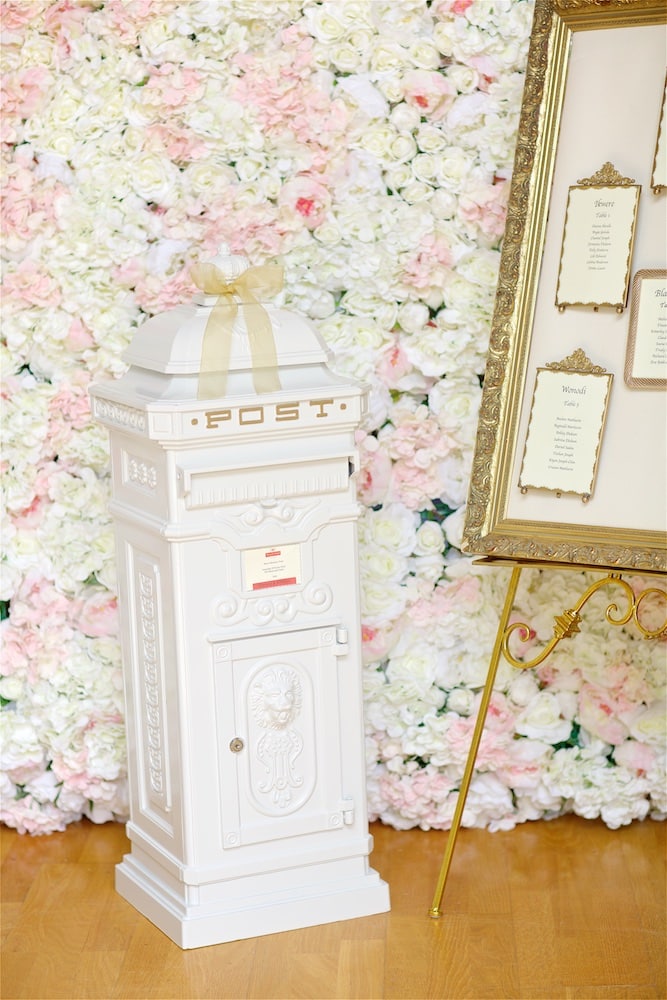 2. RUSTIC VINTAGE WOODEN POST BOX
This hand-made rustic vintage wooden post box is the perfect accessory for your venue decor if the rustic/natural look is what you're aiming for. It comes with its own floor standing column. But if preferred you can take the post box off the stand and sit it on a table.

NB: Our linen hessian sashes, also available to hire, make a wonderful complement to this post box. Find some information on our sashes and chair covers here.

This box also has a lockable door for added security, so your guests can safely deposit their gifts and cards to you.
It measures 30cms x 60cms and when it's placed on its column the overall height is 110cms.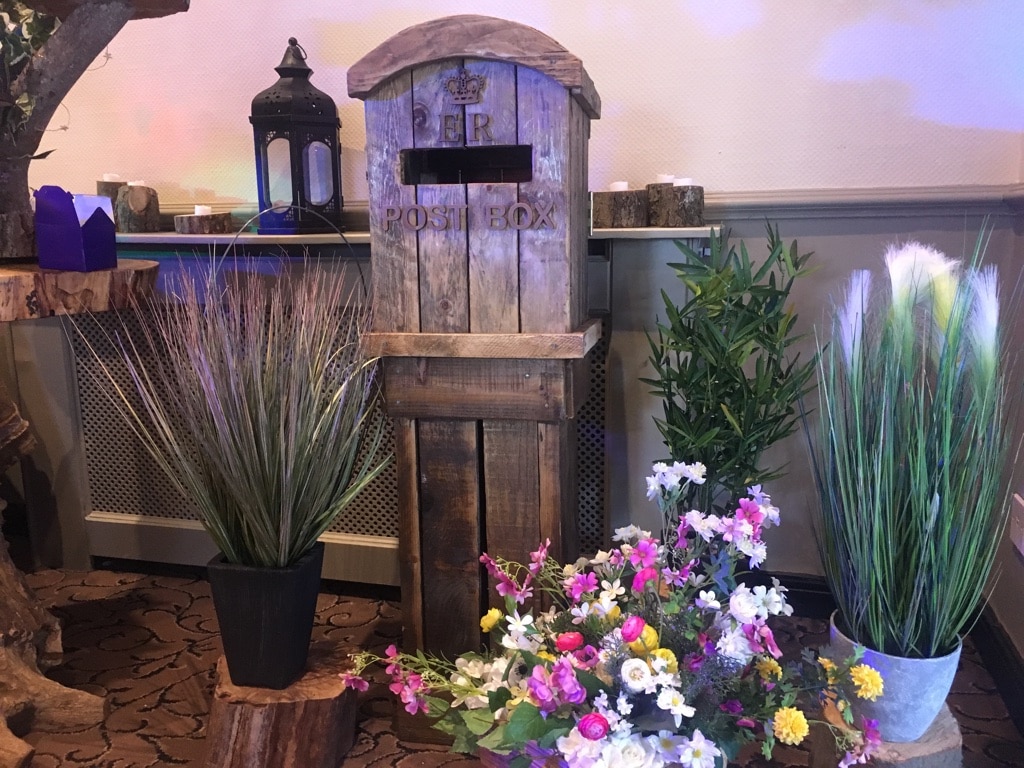 This quality rustic post box costs £30 to hire – the hire cost includes delivery and collection within a 10-mile radius of Swindon. But of course, you're welcome to organise collection and return of the hire item yourself. 

3. WOODEN WEDDING CARD POST BOX WITH CLEAR FRONT
Invite your guests to post their cards to you in this attractive, contemporary styled wooden post box with a clear, acrylic front panel. Finished in white washed wood it will complement most wedding themes and decor styles.

There are two options with this post box:

a. A generic panel that you hire with the box.
b. Hire the box and buy a personalised front panel to use with it. Two small holes in the acrylic panel makes it easy to add a decorative ribbon for you to hang it on display after your celebrations as a wonderful keepsake. 

The post box measures 13′ x13′ x 17 to holda a fabulous number of well-wishing cards.
Hiring our wedding card post boxes
To hire any of these post boxes do get in touch as soon as possible to be sure of getting your date. Contact Us to check its availability and to reserve it for your special day. And do please also see our Terms and Conditions. Thank you. 
Looking for inspiration?
If you're seeking other inspiration why not visit our venue styling services page to see the images we have there of some of the looks we've created? And do explore both our accessory hire and treasure trove sections.

We've got everything from flower walls to floating cake tables with table plan stands, easels, candlesticks, lanterns and more. And of course our wonderful wedding card post boxes.

If you're feeling social there's always lots to see on our Instagram and Facebook pages – so do go and connect with us there! We'd love to see you!