We've celebrated Valentines Day,  Mothering Sunday, Easter,  Fathers Day and a host of celebration days are ahead of us.  Which is why, as well as planning our family festivities the Fabulous Functions  is taking a look at wedding trends for 2018. Because of course, nothing stands still in the wedding trends world.
Our advice to you is to get your Pinterest boards at the ready because we've been having a good root around the Internet. We've looked at what those in the know are forecasting to be the hot wedding trends for 2018. Whether it will be dresses, cakes, or venue styling.
Ceremonies
As good a place as any to start is with the ceremony. During 2017, we brought you a blog with advice on choosing your wedding ceremony, in which we mentioned humanist weddings. Something that more and more brides are opting for.
This article in Love Your Wedding Mag.Com about hottest new wedding trends in 2018 has observed a rise in handfasting ceremomies. This ceremony style comes from an ancient Celtic tradition whereby the bride and groom's hands are bound together as part of their wedding vows.
The dress: 2018 Wedding Dress Trends
The world's bridal designers have been busy sketching and sewing. And the results of their labours are 'out there' for your delectation.
The spring and autumn collections at New York Bridal Fashion week showed off some exciting wedding dress trends for brides-to-be.
2018 is looking to see the return of the cape big time. Whether long and flowing and embellished for dramatic effect or short and chic and just enough to cover the shoulders the cover-up is back. Feathered capes are a big feature right now.
Every catwalk saw sheer and sparkle. And colour too. Yes, a rainbow of colour – including black! Bride's Magazine UK has a great photo gallery here.
Staying with the fashion theme, bridal separates are a hot bridal sartorial trend. This fashion lets you create your own bridal look by mixing and matching bottoms and jackets. Go this way and you can have a unique gown that you can ramp up into reception/party mode.
Statement shoes and slogans
2018 is the year to eschew classic, ivory courts and rock some description of statement shoe. Go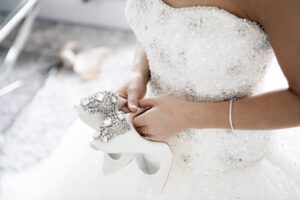 for glitter, embellish with studs, be colourful, or sport a slogan on your toes.
Indeed, slogans are the new big thing on everything. From 'Mrs' clutch bags to 'Bride' leather jackets and 'Bridesmaid' tote bags – you're wedding accessories will do the talking if you let them
Terrific ideas that allow your personality to shine through? Or cheesy and tasteless? You decide.
Dressing your venue with an abundance of foliage

Pantone chose 'Greenery' as their 2017 colour of the year. It was no surprise then that foliage became a hot
trend in everything in 2017 and one that's set to continue into 2018. Being the trendsetters that we are, the Fab Gift Boutique blog went green a couple of times. In this one we had a look at some greenery venue trends and here in wedding décor goes green, we took a quick peek at the new Pantone 2017 colour.
As Love Our Wedding Mag points out: 'Bouquets and decorations with plenty of beautiful leaves give your wedding a natural woodland look. They're also a lot easier on the budget!' Something that we've touched on this year in our blog about the benefits of silk flowers and foliage.
Let them eat cake!
There's lots to interest the sweet-toothed of you out there. Starting with cake tables. By which we
don't mean a table on which to put a traditional large wedding cake. Nor even a table made from cake! The latest trend for wedding cakes is for a table groaning with a range of smaller cakes in a variety of shapes and flavours. The prediction is that such sweet treats as doughnuts and meringues are going to be popular accompaniments to a smaller wedding cake.
Then there's translucent cakes. Following on from the naked cake trend are cakes with the thinnest scraping of buttercream on the outside. Just enough to stop it drying out while letting the sponge beneath peek through.
Taking the Internet by storm already are geode cakes and crystals. A maelstrom set to rage on through 2018.
Complementing geode wedding cakes, this look is all about agate slice place names and quartz bridal accessories.
Doubling as a wedding favour, agate slices make gorgeous and unusual place markers. Look no further if this style interests you because we have some agate slice place cards on our website.
Finally, being all about the social media, we're intrigued by the wedding hashtag trend from across the pond. Back to Love Your Wedding Mag.Com:
'All that's required is to devise a hashtag. It could be a combo of your last names, your wedding date or your nicknames, e.g. #SmithWedding2018 or #JackandJillAreTyingTheKnot. Make sure that it's shared on the invitations and on signage around your venue. That way it's easy to skim through the photos after the big day.'
Why not follow us on social media and check out   #ffukstyle to see what we've been posting? We're on Facebook, Instagram and Twitter! See you there.
Until next time,
Sandra
Why not check out our venue styling packages