Reminiscent of a bygone era, these vintage suitcases will set the scene for a travel-themed special occasion – whether wedding or other party. Have them simply stacked as decoration or put them to use as a wishing well for greetings cards. Or fill them with the names of your guests written on traditional buff card luggage tags that tie onto a suitcase handle.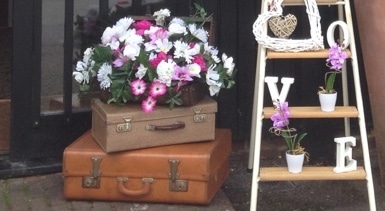 Available in various sizes, you can vintage suitcases up and surround them with pots of flowers and crates to create a Mise-en-scène or have then open and filled with flowers.
Creating a travel-themed decor
If a travel theme is what you're after creating then do check out this vintage globe in our treasure trove hire section. And visit our blog of hints and tips on creating a travel-themed venue decor on a budget – or if you've got more cash to splash. Either way the blog offers some good ideas for you. For instance, for those of you on a budget:

Scour charity shops and car boot sales, ask friends and neighbours if they have any of the following:
Vintage cameras.
Guide books and phrase books
Maps and atlases
Travel posters and bunting
Travel writing books
Vanity cases
Sunglasses
Old passports
Old tickets and boarding passes
Bunting and flags of the world
Compasses, telescopes and binoculars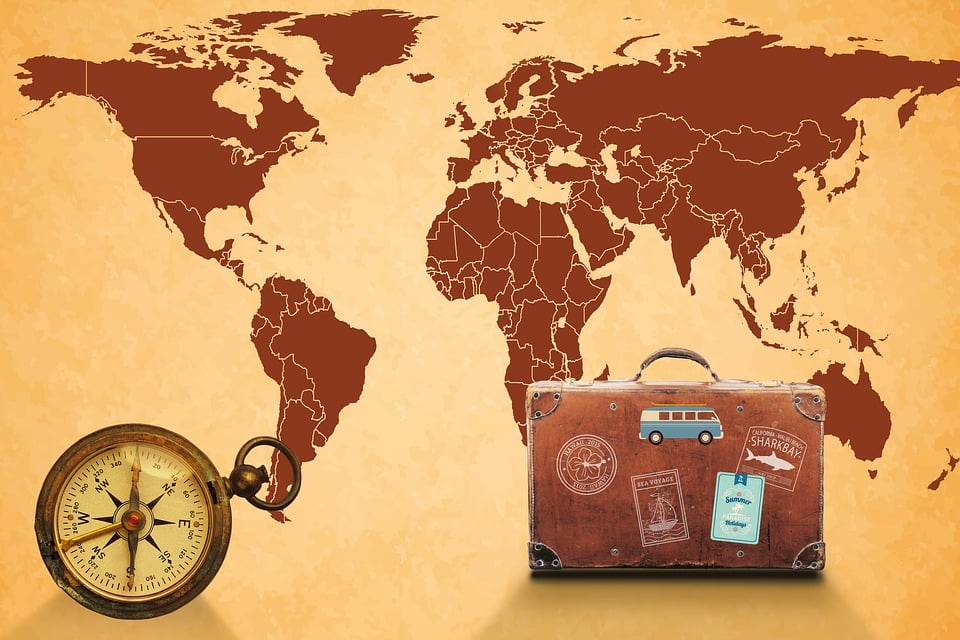 Vintage Suitcases hire cost
Small Suitcase : £8
Medium Suitcase: £12
Large Suitcase : £15
If you'd like to hire these suitcases please Contact Us to confirm the availability and reserve them for your wedding.
The hire cost includes delivery and collection within a 10-mile radius of Swindon. Alternatively you are welcome to organise collection and return of the hire item.
Before hiring from us please see our terms and conditions.
---
A suitcase history
This Smithsonian article about the history of the humble suitcase is worth a read. Luggage has come a long way since the fictional Phileas Fogg made his epic journey around the world in 80 days with, as he said to his servant Passepartout, 'only a carpet bag, with two shirts and three pairs of stockings for me, and the same for you. We'll buy our clothes on the way.'

When the suitcase at last caught on, at the end of the 19th century, it was – as you'd expect – a case for suits.

'A typical suitcase came equipped with an inner sleeve for storing shirts, and sometimes a little hat box on the side. But even in the early 20th century, the "dress-suit case" was only one of countless styles of container that travelers could buy, from steamer trunks to club bags to Eveready portable wardrobes. These were boom times for the baggage business.'

The history of the suitcase spans every major transportation revolution since the steamship. And this means that suitcases carry a lot more than spare socks and underwear—they carry in their design a subtle history of human movement.'

From steamships to rail to air travel – they've all had an influence on the development of our luggage. In the days when travelling by boat was the only way to travel, trunks had to be waterproof. These days though, with the ubiquitousness of air travel, it's all about the weight and the dimensions and whether you have to check your baggage in for it to go in the hold or whether you can carry it on to plane and put in to the overhead locker. As the article says:

'Whereas formerly luggage would be handled by porters and be loaded or unloaded at points convenient to the street, the large terminals of today, particularly air terminals, have increased the difficulty of baggage handling. Thus, it is often necessary for a passenger to handle his own baggage in an air, rail, or bus terminal. Further, where the passenger does handle his own luggage, he is often required to walk very great distances.'