The colour purple
In 2017 Pantone was all about the greenery. In 2018 they've shifted from a colour resonant of nature's earthbound abundance to a colour suggestive of the wonders of the cosmos. Pantone describe it themselves as: 'Complex and contemplative … the intrigue of what lies ahead, and the discoveries beyond where we are now. The vast and limitless night sky is symbolic of what is possible and continues to inspire the desire to pursue a world beyond our own … '
Here at Fabulous Functions UK we're quietly pleased with the 2018 Pantone colour choice because we've got shades of purple in our brand colours. And we think thats fab. But of course what anyone planning a wedding, or any other event, wants to know is how they can incorporate it in their wedding planning. Luckily for you the Dessy Group have put together a blog post all about to use Pantone colour of the year 2018 ultra violet from which we'll select the key points for you.
According to them this year's Pantone purple is brilliant news for brides in all manner of ways:
1. Some people think purple has a significant mental effect when it's worn and seen.
2. It's considered to be a mind-calming and de-stressing colour. Something to consider if you're keen to avoid becoming a bridezilla!
3. Apparently it has an uplifting effect – so no tension and rows at a purple-themed wedding then? That's the theory …
4. Purple is often seen as a spiritual colour and, of course, as a regal colour. Back in Roman times shades of purple were so valued that the only person permitted to wear a purple toga was the Emperor.
Don't go overboard with it though because too much purple is likely to foster irritability, impatience and arrogance – back to Bridezilla territory again.
Power to your florist's elbow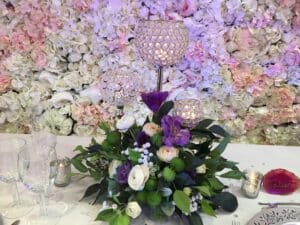 Flowers come in all shades of purple so go for this and your florist will bloom with joy. Her options are almost endless. To get you going: anenomes, verbena, lavender, agapanthus and pansies. But there are many, many more. Of course this applies to silk flowers too! There are many good reasons to choose silk wedding flowers over fresh. Read our blog about the benefits of silk flowers over the real thing.
Tips to get the exact shade you want for your wedding
 Give a colour swatch to your florist and/or venue stylist so they can match up the exact shade of ultra-violet – or whatever colour you're going for – so they can match it to your blooms and accessories.
 In fact – give it to everyone that might need it: caterers, cake maker and candlestick maker.
Tabling the motion: being on trend as we always are at Fab Functions UK, our accessories hire section has some dramatic and regal crushed velvet purple tablecloths. And we can customise the top section of our fabulous flower wall to your required shade.
Work the ultra-violet theme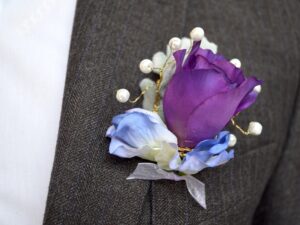 Assuming you don't want to wear ultra-violet yourself – but if you do then go for it –ways to work it are to have the bridesmaids in that shade. Or ultra-violet sashes for your flower girls along colour pops in buttonholes,  cravats, ties, waistcoats and socks.
Sweet treats
A purple theme may well be pleasing to your caterer too. Purple is an appetising shade for a range of sweet treats. Plus it's a wonderful colour for dessert tables and as a wedding cake colour.
Not a Pantone purist?
If deep purple is really not your hue then nod to the trend with soft lilacs and lavender or even blue with deep red. This blog from elegant wedding invites.com shows some great colour scheme ideas for 2018.
If you'd like to enquire about our flower wall, our purple tablecloths, our silk bouquets or indeed anything at all give us a call on 07511 842 451 We'd love to meet for a coffee and bounce ideas around.
Feeling social? You can find us on Facebook: https://www.facebook.com/ukfabfunctions/ and Instagram too: https://www.instagram.com/ukfabfunctions/
There you'll find loads of photographs of the flower wall and more to whet your appetite.